Saft smart lithium-ion (Li-ion) battery systems ensure efficient and reliable energy storage throughout the electricity chain from generation to consumption----- Intensium® Max offers a containerized megawatt scale solution-----Synerion® modules enable local energy management in end-user PV schemes
Paris, May 23, 2012 – Saft, the world's leading designer and manufacturer of high-technology batteries for industry, is at All-Energy 2012 in Aberdeen to present its broad portfolio of smart lithium-ion (Li-ion) battery systems developed to offer the ideal storage solution across the entire energy supply chain. Visitors to Booth B131 will be able to see how Saft's Li-ion technology delivers significant performance, reliability and total cost of ownership (TCO) advantages in applications from grid stabilization in electricity production, transmission and distribution networks to local energy management in individual homes, buildings or communities.

Saft is highlighting two Li-ion battery ranges: Intensium® Max – a megawatt energy storage solution that makes renewable generation predictable and grid compatible; Synerion® 48E modules - provide flexible energy storage to support the roll-out of distributed residential and small commercial renewable energy solutions.
Intensium® Max - efficient energy storage at the megawatt scale
Saft's Intensium Max is a ready-to-install containerized solution that provides a complete, fully integrated energy storage system at the megawatt scale comprising Li-ion battery modules, power management and control interfaces, air conditioning and safety devices. The containerized energy storage system is targeted at medium to large scale on-grid solar and wind power schemes, where the effective implementation of state-of-the-art Li-ion technology can smooth the intermittent generation and ramp rates inherent in renewable power sources. Intensium Max is available in three versions – High Energy, Medium Power and High Power – providing flexible solutions that can also be used in medium and low voltage grids to provide various grid support functions such as peak management or voltage support.
Synerion® 48E Li-ion modules for local energy management systems
Saft Synerion modules are the main building blocks for highly scaleable battery systems that provide flexible energy storage solutions to help encourage the roll-out of distributed residential and small commercial PV (photovoltaic) solar power schemes. The effective energy storage offered by a Synerion system time-shifts power generated during peak production times - during the middle of the day for solar energy - to the peak morning and evening demand times. Energy storage will play an increasingly important role in boosting levels of self-consumption as the anticipated reduction or even ending of feed-in-tariffs reduces the incentive to feed excess power into the local grid.
About Saft
Saft (Euronext: Saft) is a world leader in the design and manufacture of advanced technology batteries for industry. The Group is the world's leading manufacturer of nickel batteries and primary lithium batteries for the industrial infrastructure and processes, transportation, civil and military electronics' markets. Saft is the world leader in space and defence batteries with its Li-ion technologies which are also being deployed in the energy storage, transportation and telecommunication markets. Saft's 4,000 employees present in 19 countries, its 16 manufacturing sites and extensive sales network all contribute to accelerating the Group's growth for the future.
For more information, visit Saft at www.saftbatteries.com
Featured Product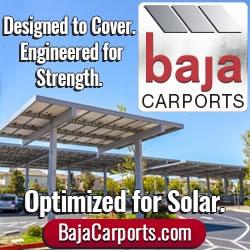 Baja Carports offers an extensive solar support system product line customized to customers' site specifications by in-house engineers, meeting their parking lot coverage, plus optimal PV production needs. Baja's Full Cantilever Tee is often paired with its Semi and Full Cantilever carports to meet live/loads up to 60psf and wind speeds to 160mph. All Baja products are pre-fabricated, bolted connections, pre-galvanized structural steel for fast on-site installation and project aesthetic requirements."