Patent Pending SOLquick System Decreases Installation Time by Over 85%
TUCSON, Ariz., May 24, 2012. SOLON Corporation, one of the largest providers of turnkey

solar power plants and photovoltaic (PV) products in the U.S., today announced it has been
selected as one of the finalists by the Intersolar AWARD 2012 expert panel in the Photovoltaic
category, recognizing SOLON's patent pending SOLquickTM commercial rooftop system as one
of the most pioneering technologies and innovations of 2012.
The SOLquick system, a versatile new plug-and-play commercial rooftop solution, successfully
integrates a frameless module and racking into a unitary product to bring tremendous cost
savings, simplicity and design value far above standard module installation practices.
Developed to reduce overall system cost by targeting installation labor, the SOLquick system is
designed to ship directly to the work site, fully assembled with no staging or tools required. The
product can be installed in 10 units per man hour and initial SOLquick flat roof installation has
proven to reduce mechanical installation time by over 85 percent and electrical installation time
by 50 percent.
Featuring Fibrex® material from Andersen Corporation, an innovative wood and thermoplastic
composite material for the racking, the SOLquick system is significantly lighter than traditional
roof-mounted systems, at 2.8psf (80lbs). In addition, the system requires no additional ground
wire, which further minimizes labor and cost.
Lars Podlowski, SOLON's Chief Technical Officer, stated "The SOLquick system was developed
by our US-based product development team from concept to launch in just eight months. This
product highlights SOLON's strategy of aggressively attacking system and installation costs
through innovative and differentiated products, in this case focusing on a unitary, light-weight
module and mounting system as well as rapid installation."
The industry-renowned Intersolar AWARD is given out annually by an independent panel of
judges in the award categories of photovoltaics, solar thermal technologies and PV production
technologies (in cooperation with SEMI PV Group). Over 3,500 exhibitors from Intersolar
Europe, Intersolar North America, Intersolar India and Intersolar China are all eligible to
compete for the Intersolar AWARD. Nominees are judged on their innovation compared to
other products currently on the market as well as their technological and economic benefits and
their contribution to the industry, environment and society.
The SOLquick system will be showcased at this year's Intersolar Europe Conference on June
13-15 in Munich, Germany, in SOLON booth A4.380, and at Intersolar North America, on July
12-14 in San Francisco, CA, in SOLON booth #9146.
The Intersolar AWARD ceremony will be held on June 13, 2012 at Intersolar Europe 2012.
To view SOLquick's revolutionary installation process visit:
http://www.solon.com/us/products/SOLquick/index.html
About SOLON Corporation:
SOLON Corporation (www.SOLON.com) is a leading provider of utility-scale and large commercial photovoltaic
(PV) system solutions to the North American market. SOLON delivers complete and cost-effective turnkey PV
systems to its partners with a streamlined approach from project development, design and construction to
financing and operation. With NA headquarters in Tucson, AZ and offices in Phoenix and San Francisco,
SOLON is driven by a passion for innovation and a commitment to providing superior solar solutions with
unrivalled quality and reliability. Founded in 2007, SOLON Corporation is a subsidiary of the SOLON Group, a
leading international provider of solar solutions for residential, commercial and utility-scale applications. The
SOLON Group operates subsidiaries in Germany, Italy, and the U.S. with more than 600 employees worldwide.
For more information, visit www.SOLON.com
Featured Product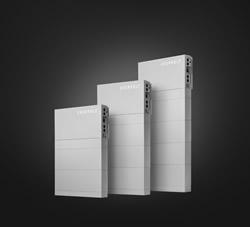 Extract maximum power production from every roof size and shape. HIT® AC Series combines the module efficiency of Panasonic solar panels with the intelligence of Enphase microinverters. A built-in IQ 7X microinverter with Individual MPPT (Module-level Power Point Tracker) tracking helps deliver an all-in-one module that offers design flexibility, reduced installation time, and a higher ROI. Field-replaceable microinverter with no DC wire management required yields lower cost of ownership.