Wind lab provides Redstone students with hands-on curriculum to ensure workforce readiness
BROOMFIELD, Colo.--Redstone College, a Denver-based institution of higher learning, celebrated the commencement of its fourth graduating class from its Wind Energy Technology Program on May 21, bringing the total number of graduates since the program launched in August 2010 to 106. According to the American Wind Energy Association (AWEA), Colorado is one of the top 10 states for wind energy jobs, and receives 9.2% of its electricity from wind power.

"Wind energy is a relatively new industry for America, and yet, it has had significant growth both in the U.S. and Colorado, especially in the last five years," said Tim Guerrero, campus academic dean of Redstone College. "When we launched our program, we made a commitment to provide our students with a curriculum that focused on hands-on learning to ensure they were workforce ready. We went to Denmark to find a used Vestas V27 to place in our wind lab, which teaches everything from testing equipment, such as a lab volt industrial trainer and a hydraulic station, to troubleshooting for the processes of installation, testing and repair of wind turbines. When our graduates complete the program, they are immediately ready to productively manage wind turbine electronic components."
Redstone's 15-month associate program teaches both mechanical and electrical applications for the wind energy industry, including the fundamentals of mechanics, math and physics. Safety training is also a critical component of the program; students receive training in first aid, fire suppression, climb safety and current OSHA safety standards. The program has grown substantially since it launched and currently has eight faculty and two lab technicians. Four classes have graduated since October 2011, and program enrollments are accepted every two months.
"When you work with high voltage and high power, students must learn they can't rush it and that troubleshooting systems requires critical thinking," said Warren Schmelzer, wind energy technology instructor of Redstone College. "Our faculty doesn't teach the technology of a specific turbine, but rather we teach our students to 'read' and to understand the fundamentals of concepts such as wind mechanics and math, among others."
Wind Energy Technology graduates have received jobs at leading organizations including RES America, SOS Staffing/Vestas, Ethos Distributed Energy, enXco, Siemens and SkyClimber.* For all programs offered at Redstone College, 80 percent of its eligible graduates have been placed in jobs in their fields of study.**
Industry statistics provided by AWEA:
*In the past five years, American wind power has:
*Brought in as much as $20 billion annually in private investment to the U.S.
*Created one of the largest providers of new
American electric generation with 35 percent of all new power capacity, right behind natural gas.
*Driven technology advances that have made wind more affordable than ever. A typical wind turbine now generates 30 percent more electricity – all while driving down costs.
*Created nearly 500 new American manufacturing facilities and employed 75,000 people, including 30,000 in the manufacturing sector, from coast to coast.
Colorado-specific statistics provided by AWEA:
*Colorado has 20 wind power manufacturing facilities across the state.
*Colorado's installed wind capacity grew nearly 39 percent in 2011, installing the sixth most new MW.
*Logan County, Colo., has seen a 41 percent spike in sales tax revenue and a $1 billion investment in the community; it provides clean, homegrown power for some 425,000 Colorado homes.
*As exemplified by Logan County, wind farms in Colorado provide a second cash crop to the state's farmers and are a vital source of support for rural communities in the form of approximately $5.4 million a year in land lease payments and more than $10 million in annual property tax payments.
*This list contains employers of Redstone College graduates from Oct. 1, 2011 – May 15, 2012, and is not intended to represent an endorsement of Redstone College by the listed employers.
**As reported on the 2011 ACICS Annual Report Program Enrollment Summary for the period July 1, 2010 - June 30, 2011.
About Redstone College
Founded in 1965 and located in Broomfield, Colo., Redstone College offers a variety of technical degree programs including Airframe and Powerplant (A&P), Advanced Electronics Technology, Heating/Ventilation/Air Conditioning (HVAC) and Construction Management. Redstone College programs are highly integrated to ensure students learn from instructors who have industry experience and receive hands-on practical training, industry networking opportunities, career placement assistance, tuition-free alumni retraining* and more. Since the school was founded, more than 15,000 students have graduated from its programs. For more information on Redstone College, visit www.Redstone.edu.
Featured Product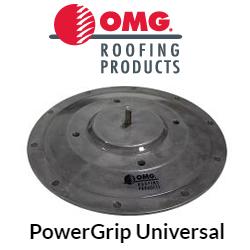 Eliminate Solar Rack Ballast and Reduce Rooftop Material Handling. PowerGrip™ Universal (PGU) is a commercial roof mount system designed to secure solar racks and other equipment to any type of commercial roofing system. PGU provides a secure connection directly to the roof deck or structural members and is designed to reduce or eliminate ballast in solar racking systems, so there's less weight on the roof and less material handling. Made of heavy-duty cast aluminum, PGU units include a base ring which is secured through the roofing cover and into the structural roof deck, and a waterproof top plate.