Solar energy transition realised: private investor backs third large power plant in the North.
Hamburg, Germany / Grimmen, Germany
Thursday, March 29th, 2012 Conergy was joined by the Mayor of Grimmen and the private investor from Northern Germany for the opening of the 8 megawatt solar power plant in Grimmen near Stralsund. With a symbolic push of the red button, one of the largest solar parks in Mecklenburg-Vorpommern was officially connected to the grid, underlining a strong commitment to the German solar industry: all components are 100 % from Conergy's domestic manufacturing facilities.
The Minister for Economic Affairs Harry Glawe embraces the investment in renewable energies: "The energy transition is already well underway in Mecklenburg-Vorpommern. In this region, the sun is already supplying around 43,000 households with environmentally friendly power. One advantage of photovoltaics: solar power is produced directly where it can be consumed. There is no need to transport it over great distances in the grid."
For Conergy and private investor Stephan Johannsen from Northern Germany, the new solar plant in Grimmen represents another chapter in a special solar partnership; it is already their third joint solar park. Johannsen has been driving his personal energy transition consistently forward for a number of years. With his investments in the two largest solar parks in Northern Germany at Tarp and Hörup as well as the large Grimmen power plant now, the green investor has gone for clean energy generation, as he has also done with his 10 Conergy rooftop plants with a total capacity of around 2 megawatts.
"We have a great responsibility towards our children. Obtaining emission-free energy from regenerative sources is an important step in ensuring that they will be able to live in an intact environment," said Stephan Johannsen. "For me, environmental and climate protection starts directly at my front door. That is also the reason why we will expand our solar involvement from the region and for the region further." With respect to the components he also goes for quality "made in Germany", based on past experience. In collaboration with system supplier Conergy he has already realised a total of 20 megawatts of solar capacity – possibly to be continued.
"Solar energy has a great deal of potential. To supply the whole of Germany with solar power would require approx. 5,000 square kilometres. The area provided by roofs in the republic alone amounts to 2,800 square kilometres," said Stefan Balbierz, Conergy's Managing Director in Germany. "Germany's solar future therefore lies on the roof – and Conergy is very well positioned in this respect. We have been offering complete rooftop systems from a single source for years."
With their numerous rooftop plants, the Johannsens have already realised the move onto the roof as well as their personal energy transition. And their eco portfolio has now been expanded further with the large solar plant in Grimmen. In addition to providing all the components installed at the park, Conergy also acted as general contractor. The project development work was carried out by Conergy partner EBB Renewable Energy GmbH from Flensburg.
On over 20 hectares – an area over three times the size of the Olympic stadium in Berlin – around 35,000 Conergy PowerPlus modules produced in Frankfurt (Oder) will be generating around 8 million kilowatt hours of solar power a year. That is sufficient to supply over 60 % of all Grimmen inhabitants with clean energy. And the environment of the region will also benefit as the solar park will prevent some 4,800 tons of the damaging greenhouse gas CO2 being produced each year, corresponding to emissions from almost 2,500 cars.
About Conergy
Conergy delivers solar energy systems from a single source. As a system supplier, Conergy offers all components for a solar installation as well as all related services.
With its modules, inverters and mounting systems, the solar expert creates Conergy System Technology, which is efficient solar energy systems for private or commercial rooftops, as well as for multi-Megawatt Parks.
Conergy System Services deliver a "Worry-Free Package" for Conergy solar installations – from "A" for architectural planning to "Y" for yield insurance and "Z" for zero trouble. Conergy's experts not only install on-site turn-key solar projects, but they also manage the planning and financing, project implementation, system monitoring, operation and on-going maintenance of the project for maximum performance. With this comprehensive technology and service package, Conergy offers yield insurance for its installations.
Conergy System Sales brings Conergy premium products to nearly 40 countries. From "A" for Australia to "T" for Tunisia – the solar expert supports homeowners, installers, wholesalers and investors in their efforts to "go solar". With sales activities on five continents, Conergy has close relationships with all its customers. In 2011, around three quarters of Conergy's sales were generated outside of Germany.
Listed on the Frankfurt stock exchange, Conergy employs more than 1,500 people worldwide. Since Conergy's founding in 1998, it has produced and sold 2 GW of clean solar energy. Thus, in 2011 Conergy solar installations have generated more power than a nuclear reactor.
Featured Product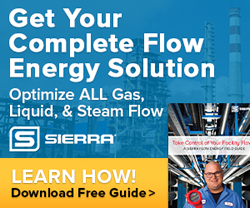 Download Flow Energy Guide - Written by Engineers For Engineers. Learn how to save on energy costs by optimizing your facility flows that impact costs like compressed air, natural gas, steam, and hot or chilled water.