The training plan will include seminars which will train fitters in the design of any type of residential and industrial rooftop PV installations
Siliken has launched an 'International Training Plan' for PV fitters and professionals to facilitate knowledge of the company's online rooftop configuration tool. This Training Plan will be implemented in 5 European countries simultaneously: Germany, Italy, Spain, United Kingdom and Belgium. The company does not rule out extending this training initiative to other countries in which it is active.

In addition to presenting its customized energyBox PV kit, during the seminar the participants will be trained in operating the advanced online configurator, which is exclusive to Siliken. Using this configurator, fitters will be able to carry out configurations and customizations of their energyBox kit for flat and slanted rooftops, with both horizontally and vertically installed modules, and choose from more than 100 structure solutions. This way, fitters will be able to optimize and customize the energyBox PV kit for any type of rooftops, giving it great flexibility and adaptability to the conditions and regulations of each country.
With this 'International Training Plan', the company streamlines the working methodology of interested fitters, provides support for their sales processes as well as an in-depth understanding of the high performance level of the product.
The participants have indicated that through this seminar they gained insight into the key functions of the product, focusing on its configuration flexibility and fast design to build the installation.
Siliken Online Configurator for energyBox
The Web Configurator is a free online tool exclusively designed by Siliken for its clients, the fitters. The configurator is set for running in five easy steps. First, it allows fitters to choose the country in which the installation will be carried out, together with other important parameters involved in the study of static load. Next, the type of tiles and/or roof material is selected and the dimensions of the roof entered, which automatically provides the appropriate structure components. Then the module and the type of structure are selected. Subsequently, a rooftop plan is generated, scaling the roof based on the measures entered. Then the required number of energyBoxes is calculated for the specific roof and a technical report is generated which includes the following data: general rooftop parameters, layout, list of materials, calculation procedure, assembly information, etc.
Siliken's Web Configurator puts the company in the forefront of cutting-edge innovation, adapting to the requirements of rooftop fitters. Based on studies carried out by Siliken, there is a potential demand for small industrial and residential rooftop installations, for which energyBox is the simplest and most effective solution.
Siliken, Innovation Experience
Siliken is an international company developing solutions for the renewable energy industry, especially in the area of photovoltaic solar energy. Its activities range from the production of solar-grade silicon, the manufacture of PV installations and components to promotion, maintenance and after-sales services. Siliken has module production plants in Spain, Mexico and Rumania, next to its own purification plant for solar-grade silicon in Spain. Siliken modules are subjected to strict quality control tests in order to guarantee product efficiency, flexibility and durability. Testimony to this are the No. 1 ranking in 2010 and the No. 2 ranking in 2011 in the leading independent survey carried out in the test laboratories of the Photon Laboratory Magazine in Aachen, Germany.
Today, Siliken continues its international expansion, strengthening its position as a reference in the world of renewable energy.
For more information, please contact: press&media@siliken.com
Featured Product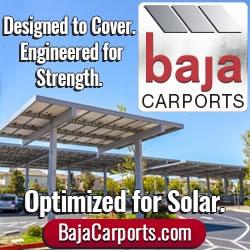 Baja Carports offers an extensive solar support system product line customized to customers' site specifications by in-house engineers, meeting their parking lot coverage, plus optimal PV production needs. Baja's Full Cantilever Tee is often paired with its Semi and Full Cantilever carports to meet live/loads up to 60psf and wind speeds to 160mph. All Baja products are pre-fabricated, bolted connections, pre-galvanized structural steel for fast on-site installation and project aesthetic requirements."