New ApacheHVAC expanded waterside capabilities includes new heat transfer water loops plus new interface
Boston – May 30, 2012 – Integrated Environmental Solutions (IES), a provider of integrated performance analysis software and consulting services for sustainable building design and operation, today announced new HVAC enhancements to its VE-Pro building performance simulation software. The ApacheHVAC module includes expanded waterside capabilities, allowing users to model a broad range of equipment configurations across chilled and hot water systems.

The new expanded waterside capabilities include:
∑ Heat transfer water loop with water-to-air heat pumps
∑ More pre-cooling options in chilled water loop, in addition to integrated waterside economizer
∑ Heat recovery from condenser water loops to hot water and heat transfer loops
∑ Radiators and Chilled Ceilings now "see" hot and chilled water loop temperatures
∑ DX cooling reorganization
∑ OR connections extend to provide time switch override function
"The IES team has worked incredibly hard to significantly increase the technical capabilities of our HVAC software so that they now meet the demands of U.S. engineers," said Timothy Moore, Senior HVAC Product Manager at IES. "We've extended the range of systems we cover with these upgrades, and our HVAC solutions go above and beyond expectations for architects and designers, ensuring the HVAC system is part of the whole-building design process from the earliest stages."
In addition to added waterside capabilities, ApacheHVAC has been given a facelift with a new systems interface including new component graphics, redesigned toolbars and easy-to-use drag and drop features. New drawing tools and improved import and export functions offers engineers the ability to create and save their own customized systems to a library.
ApacheHVAC uses a flexible design approach that allows for quick assembly of HVAC plant and control systems. Designers can build systems from scratch or from pre-defined auto-sizable systems. Designed to integrate with IES' thermal analysis tool, ApacheSim, building and HVAC systems can be assessed as a whole, allowing all gains and losses, heat transfer and thermal mass in the building to be accounted for alongside system performance.
The enhanced ApacheHVAC is currently available as part of the latest release of IES' Virtual Environment software suite, IESVE 2012.
About IES
Integrated Environmental Solutions' (IES) mission is to advance the sustainability of the world's built environment through the use of integrated performance modelling technology, delivering resource efficient, low-energy, zero-carbon buildings and cities for future generations. For additional information, please visit www.iesve.com
Featured Product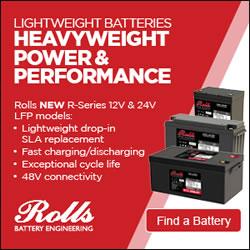 Rolls Battery has just introduced a new range of LFP lithium models. Available in 12V & 24V 50AH-300AH capacity options, the R-Series LFP lineup a lightweight, compact case design in four popular BCI case sizes (G24, G31, G49 & 8D), a customized BMS with added protections for safe & stable operation, improved cycle life (>6000 cycles @ 80% DOD) and up to 4x Series, 4x Parallel connectivity for 48V system configuration.