Tentec is one of the few companies able to design, manufacture and supply bolt tightening tools tailor-made to meet specific requirements
Booth #1661 at Windpower 2012

As developments in the design and installation of wind turbines continues at an ever-increasing pace, international engineering organization Tentec will be available on Booth #1661 at Windpower 2012 to discuss the wide range of bolt tensioning options available to manufacturing, installation and maintenance companies. As well as showing their established Aero range of tensioners, specialists will be on hand to discuss how they can provide customized solutions for specialized applications. With an experienced in-house engineering team, Tentec is one of the few companies able to design, manufacture and supply bolt tightening tools tailor-made to meet specific requirements.
"New wind turbines are being developed all the time," says Roy Sheldon, Sales Director at Tentec. "with manufacturers and contractors constantly looking for new tooling and more efficient ways to carry out bolt tensioning on bigger and bigger turbines. "Some projects merely require a modification to existing standard equipment," explains Roy, "whereas others are more complex and make full use of our in-house design team, their knowledge and expertise. We have been working with many of the major wind turbine manufacturers to supply customized systems to fit their latest turbine models."
As well as single bolting tools, Tentec has designed, manufactured and supplied Multi-Stud Tensioning (MST) tools that enable a number of bolts to be tightened simultaneously, improving productivity. Applications for these MST tools include wind turbine gearbox manufacturers.
Tentec's products for the wind industry will also be displayed on the stands of its representatives in the US. Two of the best-known and largest suppliers of torque equipment Hytorc (Booth 3027) and TorcUp (Booth 810) are distributors for the Tentec tensioner range, alongside Transcat's Wind Turbine Tools division (booth 1761). All distributors offer torque and bolt tensioning solutions enabling engineers to purchase the best solution for their bolt tightening application from one source. Representatives from all companies will be available to discuss individual customer requirements.
www.tentec.net
Featured Product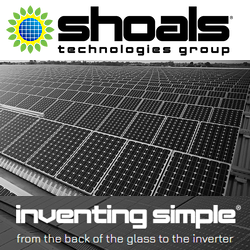 Inventing Simple® isn't just a slogan to us, it's a way of life. Using simple plug-and-play ideology, we revolutionized solar installations in 2003 with our Interconnect System™. Our harnessing system is now the gold standard EPC's use around the world. By using simple ideas, we are making solar energy a more affordable and clean power source for future generations.