Commissioning of 10 MW DPR® on First Wind's 21 MW Kaheawa Wind Power II site
The island of Maui has some of the most expensive electricity in the U.S.

To reduce dependence upon fossil fueled generators for energy production, Maui Electric Company (MECO), the local utility has embarked on an alternative energy program that maximizes the exploitation of the prevailing winds on the island. Renewable energy developer First Wind installed the Kaheawa Wind Power II to be commissioned in mid-June. It will add an additional 21 megawatts of wind farm electricity production capacity integrated with a 10 MW energy storage solution provided by Xtreme Power.
The wind may or may not blow, but maximizing the wind energy delivered while maintaining grid stability requires sophisticated technology that will be met by Xtreme Power's Dynamic Power Resource (DPR) - an integrated power management and energy storage solution that utilizes Xtreme Power's intelligent controls to optimize performance. When the wind is highly intermittent, the intelligent controls command the DPR to rapidly charge or discharge to smooth the power delivered to the utility. If the wind ceases, the utility can command the storage system via Automatic Generator Control (AGC) to discharge electricity onto the grid while a generator is brought online.
Without the DPR, MECO would have to run a fossil-fuel powered generator for spinning reserves during high wind conditions to maintain sufficient grid reliability. Running this generator decreases the amount of electricity demand that could be served by KWPII wind energy. Instead, the Maui utility will rely on 10 MW of responsive reserves from the Xtreme Power DPR, which can discharge the needed amount of energy to bring the offline generator online to replace a sudden loss of wind. By employing the DPR, the generator can remain offline, thus allowing First Wind to reliably deliver 70% more wind energy to the grid annually.
Xtreme Power provides scalable, real-time power management and energy storage solutions that enable a sustainable, reliable and cost-effective electric grid. This is the company's 8th utility scale installation and the third purchase by First Wind for Xtreme Power technology.
Integrating the DPR with the Kaheawa Wind Power II site not only saves the utility operating costs associated with burning expensive fossil fuels, but also increases the revenue for First Wind, reduces MECO's carbon footprint and provides cleaner, cheaper electricity to the residents of Maui.
About Xtreme Power
Xtreme Power provides scalable, real-time power management and energy storage solutions that enable a more sustainable, reliable and cost-effective electric grid. Xtreme Power's Dynamic Power Resource® combines customized real time controls and intelligent power electronics with efficient energy storage technology engineered specifically to the needs of its customers. Xtreme Power enables multiple participants and technologies to simultaneously operate on the electric grid providing new flexibility that has never before been possible. Xtreme Power is a US company backed by investors SAIL Capital Partners, Bessemer Venture Partners, The Dow Chemical Company, Fluor Corp., BP Alternative Energy, Dominion Resources, POSCO ICT, SkyLake & Co. and Spring Ventures, LLC.
www.xtremepower.com
Featured Product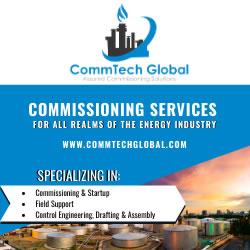 CommTech Global Solutions, LLC, provides professional and reliable commissioning services to customers in all realms of the energy industry. We blend our skills in engineering and technology with innovative business models, offering a complete range of services to assist you for a successful and in compliance operational startup. Consolidation of all our service domains gives our clients a comprehensive set of expertise and far-reaching experience on each project.