Ballard Power Systems has announced an operational trial plan for its fuel cell backup power systems in the China Mobile telecommunications network. Successful trial activity is expected to lead to commercial deployments of Ballard systems in the China Mobile network.
For Immediate Release – June 4, 2012

VANCOUVER, CANADA– Ballard Power Systems (NASDAQ: BLDP) (TSX: BLD) has announced an operational trial plan for its fuel cell backup power systems in the China Mobile telecommunications network. Successful trial activity is expected to lead to commercial deployments of Ballard systems in the China Mobile network.
China Mobile provides mobile voice and multimedia services through its nationwide telecommunications network. The Company's 670 million subscribers represent the largest customer base of any mobile provider and represent approximately 70% of the Mainland China market, the largest mobile telecommunications market in the world.
A total of 50 DBX2000 backup power systems are being delivered by Dantherm Power, Ballard's backup power company, for deployment at 30 network sites for trials beginning in June and expected to run for several months. Installation in various locations throughout China – including Beijing, Shanghai, Shenzhen and Xinjiang – as well as custom integration and local technical support will be provided by Azure Hydrogen Energy Science and Technology Corporation (Azure), Ballard's partner in China.
Azure has received formal agreement for the trials, which will focus on adaptability and durability of the fuel cell system as a widespread replacement for existing lead acid batteries located at outdoor telecom base station sites within the China Mobile network.
China Mobile put a formal corporate sustainability program in place a number of years ago, began issuing Corporate Sustainability Reports in 2007 and is currently the only company from Mainland China represented in the Dow Jones Sustainability Indexes. The Company is actively developing and deploying environmentally friendly, low-carbon solutions including this initiative involving fuel cell backup power products.
About Ballard Power Systems
Ballard Power Systems (TSX: BLD) (NASDAQ: BLDP) provides clean energy fuel cell products enabling optimized power systems for a range of applications. Products are based on proprietary esencia™ technology, ensuring incomparable performance, durability and versatility. To learn more about Ballard, please visit www.ballard.com.
This release contains forward-looking statements concerning customer commitments and planned product deployments, which are provided to enable external stakeholders to understand Ballard's expectations as at the date of this release and may not be appropriate for other purposes. These forward-looking statements are based on the beliefs and assumptions of Ballard's management and reflect Ballard's current expectations as contemplated under section 27A of the Securities Act of 1933, as amended, and Section 21E of the Securities Exchange Act of 1934, as amended. Such assumptions relate to Ballard's financial forecasts and expectations regarding its product development efforts, manufacturing capacity, and market demand, and include matters such as generating new sales, producing, delivering and selling the expected number of units, and controlling its costs.
These statements involve risks and uncertainties that may cause Ballard's actual results to be materially different, including, without limitation, the condition of the global economy, the rate of mass adoption of its products, product development delays, changing environmental regulations, its ability to attract and retain business partners and customers, its access to funding, increased competition, its ability to protect its intellectual property, changes in its customers' requirements, foreign exchange impacts on its net monetary assets and its ability to provide the capital required for product development, operations and marketing. For a detailed discussion of these risk factors and other risk factors that could affect Ballard's future performance, please refer to Ballard's most recent Annual Information Form.
Readers should not place undue reliance on Ballard's forward-looking statements and Ballard assumes no obligation to update or release any revisions to these forward looking statements, other than as required under applicable legislation.
Further Information
Public Relations: Guy McAree, +1.604.412.7919, media@ballard.com
Investor Relations: Lori Rozali, +1.604.412.3195, investors@ballard.com
Featured Product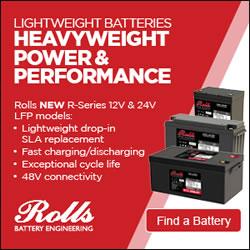 Rolls Battery has just introduced a new range of LFP lithium models. Available in 12V & 24V 50AH-300AH capacity options, the R-Series LFP lineup a lightweight, compact case design in four popular BCI case sizes (G24, G31, G49 & 8D), a customized BMS with added protections for safe & stable operation, improved cycle life (>6000 cycles @ 80% DOD) and up to 4x Series, 4x Parallel connectivity for 48V system configuration.