New mounting systems for pitched roofs and solutions for self-supply with solar power
Gilching, June 5, 2012. Donauer Solartechnik will present its new on-roof and in-roof systems from the Intersol product line at Intersolar Europe 2012 in Munich (Hall B5, Booth 110). Visitors themselves will be able to install the new frame components, at our exhibition booth. Other features include system solutions for self-supply with solar power.

The new mounting systems, Intersol Trapez Flex and Intersol Trapez Light allow installers to quickly install solar power systems on trapezoidal roofs. The Trapez Flex substructure enables the mounting frames of solar modules to be installed in a transverse, oblique or upright position. It also allows an elevated mounting of solar modules. The substructure is based on an individually adjustable trapezoidal sheet holder which can be set to the required width on the ground. The Trapez Flex is then attached to the raised beading on the roof in seconds using self-tapping screws.
Thanks to the twelve holes for positioning the screws, the second new development, Trapez Light, can be flexibly mounted on the raised beading of the trapezoidal roof. The Trapez Light mounting rail is only about 40 cm long and easy to handle on the roof.
Trade-fair visitors can test its fast assembly for themselves
Donauer Solartechnik will give all visitors the opportunity to see the benefits of both systems. They get to attach the Trapez Light and Trapez Flex on to a section of roofing.
New in-roof system – Intersol InRoof
Another new development in mounting systems is the Intersol InRoof. This roof-integrated photovoltaic system combines substructure and solar modules together in one system, and at the same time, the mounting rails create a frame for the modules. Once the mounting rails are attached to the roof, the solar modules are slided into place to form a closed module area with an all-glass optic. It is also possible to cover the entire area of the roof. The system is sealed with a particularly elaborate module frame and the small gaps between the modules. The impermeability of the system was tested to DIN EN 12 208 approved according to rain impermeability Class 8A. The newly developed Donauer InRoof system also complies with the new fire safety regulation, DIN V ENV 1187-1, which comes into force on July 1, 2012. As a result, the Intersol product line is the first to be certified to this standard.
Daily presentation of self-supply with solar power
Donauer Solartechnik shows you how easily photovoltaic system owners can switch over from grid feed to self-supply with solar electricity, using three different scenarios. These everyday storage solutions including Donauer inverters, battery management and backup systems already let you use up to 100% of the solar power generated on your roof in your house. Using a computer animation, visitors can work out possible shares of self-sufficiency for their households. The exhibition is complemented by daily presentations given at 11am and 3pm in German and at 1pm in English at the Donauer booth.
The all-in-one solution: the Donauer Powerrouter
The new Donauer Powerrouter is an important component of self-consumption solutions. It combines a single-phase inverter with a battery management and back-up system in one device. Solar power can be used to its full potential with this compact solution: solar power is stored in batteries and used as needed in the evening or at night. The device is available in 3.7 kW and 5 kW versions, it is easy to install and can be monitored via an Internet portal.
Featured Product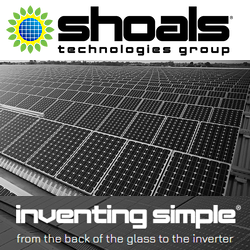 Inventing Simple® isn't just a slogan to us, it's a way of life. Using simple plug-and-play ideology, we revolutionized solar installations in 2003 with our Interconnect System™. Our harnessing system is now the gold standard EPC's use around the world. By using simple ideas, we are making solar energy a more affordable and clean power source for future generations.