Commitments to Date Total $3.6 Billion----- Highest Capacity Factor Turbine Operating in North America----- Offers 19 Percent Increase in Annual Energy Production
AWEA WINDPOWER 2012

Booth #2217
ATLANTA, GA.—June 4, 2012—GE (NYSE: GE) has received commitments to provide its 1.6-100 wind turbine for projects that will add 1.8 gigawatts of capacity to the world's clean energy supply by end of 2012. Agreements for the 1.6-100, the highest capacity factor wind turbine operating in North America, have totaled $3.6 billion since its introduction a year ago, with projected volumes of more than 1,500 units installed globally by 2013.
Recent commitments for the 1.6-100 have come from Canada, Brazil and Turkey, as well as the United States. "The market acceptance of our new technology has been widespread and demonstrates the confidence that our customers have in our technology innovation," said Vic Abate, vice president of renewable energy for GE. "We developed the 1.6-100 with our customers' requirements in mind; specifically, the need for technology that improves the economics of wind by increasing turbine efficiency even at lower wind speeds. It underscores our commitment to continue providing value-added solutions to help our customers compete successfully in today's wind sector."
With blades and towers that extend 100 meters—approximately the height of a 33-story building—the 1.6-100 wind turbine captures additional wind energy. It offers a 47 percent increase in swept area over previous megawatt-class models, resulting in a 19 percent increase in annual energy production at wind speeds of 7.5 meters per second. This enables the turbine to deliver moderate wind speed performance even when operating in low-wind environments.
The 1.6-100 wind turbine builds on the vast experience of GE's global fleet of 18,000 operating wind turbines. It is based on the proven hub and blades of GE's 2.5-100 and the nacelle and electrical system of GE's 1.6-82.5, which is currently operating at 98.5 percent production-based availability.
GE's wind turbine technology is qualified under ecomagination, the company's commitment to address challenges such as the need for cleaner, more efficient sources of energy, reduced emissions and abundant sources of clean water. GE's current product portfolio includes wind turbines with rated capacities ranging from 1.5 to 4.1 megawatts and support services ranging from remote monitoring and fault resolution to complete operations and maintenance support.
About GE
GE (NYSE: GE) works on things that matter. The best people and the best technologies taking on the toughest challenges. Finding solutions in energy, health and home, transportation and finance. Building, powering, moving and curing the world. Not just imagining. Doing. GE works. For more information, visit the company's website at www.ge.com.
Featured Product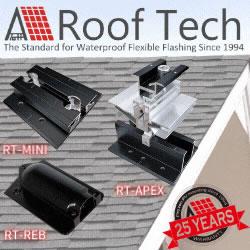 Now Roof Tech brings you the most innovative, watertight mounting systems ever developed for solar photovoltaic systems. Designed and manufactured exclusively for us by Japan's longtime leader in roofing technologies, Roof Tech products are 100% code-compliant and offer fast, simple installation and huge savings on shipping costs due to their compact, rail-less design. Learn more about our full line of versatile PV mounting solutions now available for residential installations. The next generation in rooftop solar mounting solutions."