Electricity consumption is falling all around the world, and has been falling for the past few years, in some countries since 2007.
A report of falling electricity consumption in Western Australia as homes cut electricity use should not be surprising – electricity consumption is falling all around the world, and has been falling for the past few years, in some countries since 2007, says the Sustainable Energy Association of Australia (SEA).

Falls in electricity consumption globally over the last few years can be largely attributed to improving energy efficiency, and is the result of successful regulation and programs on energy efficiency by governments leading action on reducing emissions to combat global warming through efficiencies in all areas of industrial, commercial and domestic energy consumption.
'A media report in Perth has suggested that falling domestic electricity consumption since 2010 is a consequence of rising electricity prices, but this is only part of the story,' says SEA chief adviser, Professor Ray Wills.
'The decline in electricity consumption in homes is primarily attributable to increasing energy efficiency in appliances, with the latest Energy Star appliances using much less energy than their predecessors. Combine this with people being more conscious of their power consumption, and supported by more and more households adding solar panels to offset their power bills, and the fall in electricity consumption by households is logical and will continue,' says Prof Wills.
In commenting on the matter, Western Australian Energy Minister Peter Collier acknowledged this, saying the uptake of solar power had contributed to the decline in domestic electricity consumption.
Electricity consumption in other states of Australia, especially Victoria and New South Wales, has fallen earlier and more quickly than in Western Australia as a consequence of long-running programs in those States to assist householders reduce electricity consumption (http://reneweconomy.com.au/2012/our-power-prices-are-plunging-but-only-for-a-chosen-few-95471).
Indeed, global electricity consumption peaked around 2007-2008 and has fallen every year since (http://www.iea.org/stats/pdf_graphs/29ELEC.pdf)
'Improvements in energy efficiency can be seen in other areas of consumption too – for example in the US demand for oil is close to a 15-year low, not just as a result of economic weakness, but also through increased energy efficiency in the US vehicle fleet,' says Prof Wills.
SEA welcomes Western Australian Government plans to launch a campaign in July aimed at helping households to become more energy efficient – a campaign called for by SEA for many years.
However, SEA is concerned that the rate of change in the electricity market around Australia and now witnessed in Western Australia is not informing plans for large infrastructure spend.
'Decisions on increasing levels of public investment in electricity infrastructure are being driven by assumptions that increasing consumption patterns requires more investment to keep pace with demand, assumptions that are clearly flawed based on data from around Australia and around the world,' says Prof Wills.
'Add the boon of people being able to generate their own electricity at home with roof-top solar at a price cheaper than the electricity they buy from the retailer, solar generation could ultimately reduce domestic consumption of electricity from the grid by up to 50%.'
'Future planning and investment decisions by governments must prepare Australia for the transformative arrival of renewable energy generation – one that requires a different electricity grid, a smarter electricity network.'
According to the Australian PV Association, a total of 837 MW of PV were installed in Australia in 2011, more than twice the capacity added in 2010; total installed capacity in Australia is now 1.4 GW.
Electricity consumption has peaked around the world, not just Western Australia.
SEA Media Release – 6 June 2012
Featured Product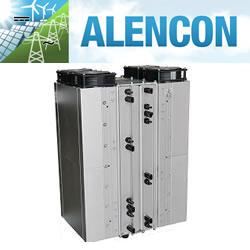 Alencon Systems is the premier manufacturer of high power, high voltage DC:DC optimizers for alternative energy applications including solar, battery energy storage, Microgrids, Fuel Cells and Electric Vehicle charging. Alencon's DC:DC converter offerings include the SPOT, BOSS and CUBE series DC:DC converters. The SPOT is a modular, uni-directional DC:DC solution ideal for solar applications. The BOSS is a modular, bi-directional unit for use with battery energy storage. The CUBE is a monolithic DC:DC converter which is available in both uni-directional and bi-directional modalities. Pictured above, is the Alencon SPOT.