Rodman & Rodman, P.C. an independent accounting firm specializing in renewable energy projects with offices in Braintree and Newton, MA, outlines the proposed changes in biomass efficiency rates for Renewable Energy Credits qualification.
The Massachusetts Department of Energy Resources (DOER) recently sent a finalized proposal of changes to the standards for biomass efficiency in the state. Rodman & Rodman outlines the proposed changes in biomass efficiency rates for REC qualification.

The original proposal called for a reduction in Renewable Energy Credits to be awarded by half for systems that were operating between 40 percent and 60 percent efficiency. The finalized proposal calls for a half credit to be awarded for systems operating between 50 percent and 60 percent efficiency. Systems operating below 50 percent would not qualify for the credit.
According to Steve Rodman, CPA, MST, President of Rodman & Rodman, "Biomass systems have been highly discussed since their initial use as to whether or not they are actually 'renewable'. Some argue that the carbon released when burning woody materials in the system is the same as the carbon released when burning coal or other fossil fuels. Others argue that the carbon is being recaptured by the existing forests, and that the trees that are burned are replaced much faster than sources of coal and fossil fuels, making them a renewable source."
He continued, "This is a major statement by the MA DOER. By requiring biomass systems to operate at 60 percent efficiency in order to qualify for the full credit, the DOER is establishing the need for these systems to be able to operate at a level that will hopefully reduce the amount of carbon that is re-released back into the atmosphere."
Rodman stated that it would be a challenge for biomass projects that are getting started. They will need to get to at least 50 percent efficiency right away in order to see any credits. This will require biomass projects to take more time in the design and testing stages to ensure they comply with the efficiency requirements before going live.
The MA DOER is taking comments on this finalized proposal until mid-June, so there is a chance that these regulations may still be subject to change until they are fully enacted.
For more information, contact the Green Team, which is a specialized green energy and clean technology accounting and tax services practice within Rodman & Rodman at (617) 965-5959.
About Rodman & Rodman P.C.
Founded in 1961 and listed in the Boston Business Journal's "Top 50 Firms", Rodman & Rodman, P.C. provides accounting, tax and business services to small and medium-sized companies. With a focus on strategic planning, Rodman & Rodman goes beyond traditional accounting services and takes a proactive approach when serving clients to increase, preserve and sustain clients' financial net worth. The Rodman & Rodman Green Team is a specialized green energy and clean technology accounting and tax services practice within Rodman & Rodman, P.C. that serves "green" clients throughout the U.S. The company is Green Business Certified and in 2010 and 2011 was named one of the "Best Accounting Firms to Work For" in Accounting Today.
From business valuations, taxation, audits, fraud detection and prevention services and succession planning to a variety of accounting IT services including software selection, implementation and training, the team at Rodman & Rodman serves as comprehensive advisors to clients. For individual clients, the company offers personal advisory services such as planning for real estate transactions, obtaining financing, estate planning and retirement planning as well as planning for college education.
Rodman & Rodman, P.C. are located at 3 Newton Executive Park in Newton and 25 Braintree Hill Office Park in Braintree, MA. For more information, email info@rodmancpa.com, visit their website at www.rodmancpa.com or contact (617) 965-5959.
Featured Product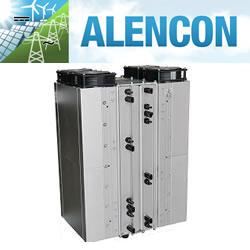 Alencon Systems is the premier manufacturer of high power, high voltage DC:DC optimizers for alternative energy applications including solar, battery energy storage, Microgrids, Fuel Cells and Electric Vehicle charging. Alencon's DC:DC converter offerings include the SPOT, BOSS and CUBE series DC:DC converters. The SPOT is a modular, uni-directional DC:DC solution ideal for solar applications. The BOSS is a modular, bi-directional unit for use with battery energy storage. The CUBE is a monolithic DC:DC converter which is available in both uni-directional and bi-directional modalities. Pictured above, is the Alencon SPOT.