Edinburgh based Logan Energy Limited, the fuel cell and hydrogen solutions provider, has undergone a share restructure
Edinburgh based Logan Energy Limited, the fuel cell and hydrogen solutions provider, has undergone a share restructure. Previously Atlanta based Logan Energy Corporation held a majority shareholding in Logan Energy Limited but the redistribution of shares has given Logan Energy Limited independent status. The realignment will enable the company to obtain second round financing that will fund its expansion into new markets.

Logan Energy Limited is the market leader in integrating fuel cell powered systems. Fuel cells, which produce electricity via an electrochemical process, are the most efficient form of distributed electrical generation and are increasingly playing a significant role in the reduction of carbon emissions globally and providing resilient power solutions.
The equity is now spread across five shareholders: SSE Ventures Ltd., Scottish Enterprise's Scottish Investment Bank, Logan Energy Corporation and Logan Energy Limited's two working directors John Lidderdale and Bill Ireland. The existing shareholders SSE Ventures Ltd., Scottish Enterprise and Logan Energy Corporation are fully supportive of the move and are excited about the opportunities the development of the business going forward.
Distributed fuel cell based systems are often the most effective way of achieving customer's goals. Drivers are different in Europe, where the focus is around carbon reduction and maximising energy efficiency. In other parts of the world the focus is on security of supply.
Logan Energy Ltd has been installing fuel cells since 1995. To date they have installed over 170 systems and are currently responsible for over 18MWe of output.
John Lidderdale, Managing Director of Logan Energy said; "The new structure enables us to secure the second round funding that, in turn, will allow us to stay ahead of the growth curve in our market place which is currently doubling every year and is likely to far exceed this."
Featured Product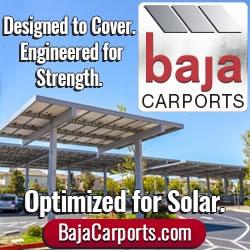 Baja Carports offers an extensive solar support system product line customized to customers' site specifications by in-house engineers, meeting their parking lot coverage, plus optimal PV production needs. Baja's Full Cantilever Tee is often paired with its Semi and Full Cantilever carports to meet live/loads up to 60psf and wind speeds to 160mph. All Baja products are pre-fabricated, bolted connections, pre-galvanized structural steel for fast on-site installation and project aesthetic requirements."