INVESTMENT OF APPROX. €40 MILLION TO REAFFIRM TECHNOLOGICAL AND MARKET LEADERSHIP IN A HIGH VALUE-ADDED FAST-GROWING SECTOR----- SUBMARINE CABLES ORDER BOOK AT €1.7 BILLION. THE GROUP IS INVOLVED IN THE PRIME PROJECTS TO DEVELOP RENEWABLE ENERGY THROUGH OFFSHORE WIND FARMS
Milan, 6 June 2012 – Prysmian Group, world leader in the energy and telecom cable systems

industry, inaugurates today its new submarine cable plant in Finland, having invested approximately
€40 million to increase its production capacity at the Pikkala facility, already one of the Group's
centres of excellence for high voltage cable production. In particular, the Pikkala plant has started
up production of transmission cables that use HVDC (High Voltage Direct Current) technology
allowing large amounts of energy to be transmitted over long distances.
"The realisation of major renewable energy development projects in Northern Europe, particularly in
Germany, also involves developing suitable new power transmission connections, especially for
offshore wind farms, explains Marcello Del Brenna, CEO of Prysmian PowerLink. Prysmian is world
leader in this field and in order to support the demands of this growing industry it is engaged in a
major investment programme to expand production capacity and maintain its technological
leadership".
In addition to the investment of some €40 million in Finland, the Group is also involved in expanding
production capacity at its Arco Felice plant in Italy, the Group's centre of excellence for submarine
cables, following acquisition of the Western Link order worth around €800 million to build a new
submarine link between Scotland and England.
In addition, the integration between Prysmian and Draka has further broadened the range of
products and services offered also in the field of renewable energy. The Group can now utilise three
production facilities dedicated to submarine cables: Arco Felice (near Naples) in Italy, Pikkala in
Finland and Drammen in Norway. With this extended production footprint, Prysmian Group is able to
present itself to the market as a reference partner for linking mainland grids to individual offshore
wind turbine towers, with an offer ranging from medium voltage inter-array cables, to HVAC and
HVDC export cables up to 320 kV.
Within its portfolio, Prysmian Group has an ever increasing track record of important offshore wind
power connections, with projects either completed or on-going in Denmark, Holland and the UK as
well as the HVDC connections to shore for the BorWin2, HelWin1, HelWin2 and SylWin1 mega wind
farm hubs in Germany, forming part of the most important programme for the development of
renewable energy in Europe.
Prysmian Group
Prysmian Group is world leader in the energy and telecom cables and systems industry. With sales of some €8 billion in 2011,
about 22,000 employees across 50 countries and 97 plants, the Group is strongly positioned in high-tech markets and
provides the widest range of products, services, technologies and know-how. In the Energy sector, Prysmian Group operates
in the business of underground and submarine power transmission cables and systems, special cables for applications in
many different industrial sectors and medium and low voltage cables for the construction and infrastructure industry. In the
Telecom sector, the Group manufactures cables and accessories for the voice, video and data transmission industry, offering
a complete range of optical fibres, optical and copper cables and connectivity systems. Prysmian is listed on the Milan Stock
Exchange in the Blue Chip index.
Featured Product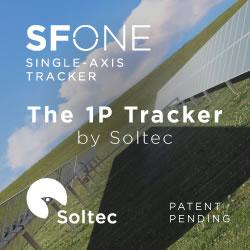 Soltec manufactures and supplies solar trackers designed and proven for extreme climate conditions, which is an ideal solution for any region's environment. Soltec's trackers are self-powered, requiring no additional PV module or grid-powered connection. Bifacial modules collect energy on both the front and rear sides, capturing reflected irradiance from the ground surface under and around the tracker and from other modules. Depending on site conditions, bifacial yield-gain can reach +30 percent.