The Australian market enjoys a sound regulatory environment for solar, and provides an opportunity for us to grow revenue in a non-US market devoid of risk of punitive tariffs
CAMPBELL, Calif., June 5, 2012 -- Westinghouse Solar, Inc.

(Nasdaq:WEST), a designer and manufacturer of integrated rooftop solar power
systems, and CBD Energy Ltd. (ASX:CBD), a diversified renewable energy
company, today jointly announced plans to begin distributing Westinghouse
Solar Power Systems in Australia. This follows last week's announcement of
the settlement of all disputes between Westinghouse Solar and Zep Solar.
Westinghouse Solar CEO Margaret Randazzo commented, "In parallel with our
efforts to complete our pending merger with CBD, both companies are
committed to growing the business in a collaborative effort. As a first
step, CBD, through its solar subsidiaries, has agreed to market and install
our solar power systems in the Australian and other international markets.
The Australian market enjoys a sound regulatory environment for solar, and
provides an opportunity for us to grow revenue in a non-US market devoid of
risk of punitive tariffs".
"A key reason for pursuing this merger was the strength of the award winning
technology that Westinghouse Solar possesses," said Gerry McGowan, Managing
Director and CEO of CBD. "When coupled with the significant brand awareness
the Westinghouse name provides, one of the first items on our agenda was to
bring these integrated 'plug-and-play'
solar power systems, with fewer parts, superior safety and faster install
times to the Australian market. After demonstrating the technology to our
customers, they have shown strong interest and we are working to make this
innovative technology available to them as soon as possible. Other key
features such as the web-based system monitoring and better energy
collection will be important advantages in the Australian market, which
installed in excess of 830 megawatts of solar last year. In short, I believe
the Westinghouse Solar product to be a class leader" Mr. McGowan said.
Westinghouse Solar plans to begin shipping to CBD in the third quarter of
this year. Further, the companies have been working on future plans to
assemble Westinghouse Solar products in Australia using CBD's newly
established solar panel manufacturing facility.
CBD Head of Strategy Carlo Botto said "In the past five years, electricity
prices have risen at four times the rate of inflation in Australia. Recently
released research by an industry association has shown household electricity
charges are already 70% higher than the American average, a figure that is
expected to grow to 160% in two years. These increases include the cost of
the recently legislated carbon tax, which is expected to add an additional
11% to average power bills, and then increase year-on-year. Roof-top solar
generation will play an increasingly important role in assisting Australia's
households and businesses to mitigate against volatile and ever-increasing
energy costs".
About Westinghouse Solar: (Nasdaq:WEST)
Founded in 2001, Westinghouse Solar is a designer and manufacturer of solar
power systems. In 2007, Westinghouse Solar pioneered the concept of
integrating the racking, wiring and grounding directly into the solar panel.
This revolutionary solar panel, originally branded "Andalay", quickly won
industry acclaim. In 2009, the company again broke new ground with the first
integrated AC solar panel, reducing the number of components for a rooftop
solar installation by approximately
80 percent and lowering labor costs by approximately 50 percent. This AC
panel which won the 2009 Popular Mechanics Breakthrough Award, has become
the industry's most widely installed AC solar panel. A new generation of
products named "Instant Connect" has just been introduced and is expected to
achieve even greater market acceptance.
Award-winning Westinghouse Solar Power Systems provide the best combination
of safety, performance and reliability, while backed by the proven quality
of the Westinghouse name. For more information on Westinghouse Solar, visit
www.westinghousesolar.com.
Featured Product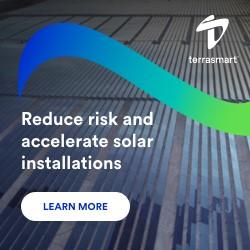 The first and only single axis tracker that allows you to turn unusable land into valuable assets. Built tough for reliable performance, TerraTrak will maximize energy output and returns conquering the most challenging sites. Employ PV where you never thought possible through durable mechanics and intelligent control technology.