GE to Collaborate on the CoMoLeFo Project on Future-Oriented Monitoring Method for Solar Inverters----- The New Technology Allows a Clearer Forecast of the Remaining Life of IGBTs in Operation
BERLIN—June 11, 2012—Solar power will play a key role in tomorrow's energy mix in Germany. In order for the sector to grow and to ensure a good return on investment, the reliability of photovoltaic (PV) power plants is critical. Further development of PV power electronics will help improve overall plant reliability.

Constant load fluctuations burden the power electronics of solar inverters in PV plants. This increases the risk of sudden plant failure. Up to now it was almost impossible to safely predict the service life of expensive power semiconductors. GE (NYSE: GE) today announced that together with Fraunhofer Institute for Reliability and Microintegration IZM, a method to forecast the remaining life time of power electronics is being developed. The first prototype of this measurement system will be presented in Berlin in September 2012.
The achievements so far of the still ongoing joint CoMoLeFo project (Condition Monitoring für Leistungselektronik in der Fotovoltaik or Condition Monitoring for Power Electronics in Photovoltaics) are identification and detection of relevant aging mechanisms of Insulated Gate Bipolar Transistor (IGBT) power modules. IGBTs are switch elements designed for high-power levels and constitute the central component of modern inverters. Mathematical algorithms and measuring data are now able to make precise assessments concerning the condition of semiconductors during operation. This enables a forecast of the remaining life time of an IGBT and therefore conditions based maintenance. Reliability is improved and hence, the operating time can be increased significantly while expenses caused by unscheduled downtimes and consequences thereof are reduced.
"The results we have seen so far during the project enhance our knowledge of failure mechanisms and are particularly valuable both when it comes to refining simulation models and to designing new power electronics systems," notes Dr. Ing. Andreas Middendorf, head of the CoMoLeFo project at Fraunhofer Institute for Reliability and Microintegration IZM.
CoMoLeFo is based on two complementary processes: One process indirectly determines the chip temperature by measuring relevant electrical parameters of the IGBT during operation. In order to evaluate the resulting load exposure to the system, the temperature data is applied to a physics of failure model. The other process monitors the parameter shift due to aging. In this way, the remaining life time of the IGBTs can be determined by a software based remote diagnostic system. The information can be forwarded to the customer and the service company.
"CoMoLeFo will enable condition monitoring of the system. This will be accompanied by improved availability of our inverters. We will be able to offer our customers more targeted service thanks to the forecasts. This will help saving time and reducing costs for our customers," notes Dr. Georg Möhlenkamp, senior leader, product management for GE Energy's Power Conversion business.
In addition to GE Energy and Fraunhofer Institute for Reliability and Microintegration IZM, the other companies involved in the project sponsored by TSB Berlin with RDF funds include imc Meßsysteme GmbH and Elbau Elektronik Bauelemente GmbH.
Please visit GE at the Intersolar Europe 2012 show being held June 13-15 in Munich, Germany, in hall C4, stand 476.
About Fraunhofer Institute
Fraunhofer is Europe's largest application-oriented research organization. The research efforts are geared entirely to people's needs: health, security, communication, energy and the environment. As a result, the work undertaken by researchers and developers has a significant impact on people's lives. The Fraunhofer Institute for Reliability and Microintegration IZM covers the entire spectrum of technologies and services necessary for developing reliable electronics and integrating new technology into applications.
About GE
GE (NYSE: GE) works on things that matter. The best people and the best technologies taking on the toughest challenges. Finding solutions in energy, health and home, transportation and finance. Building, powering, moving and curing the world. Not just imagining. Doing. GE works. For more information, visit the company's website at www.ge.com.
Featured Product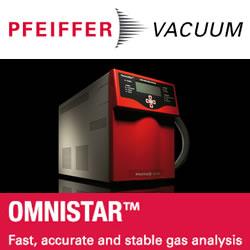 The Pfeiffer Vacuum OmniStar benchtop analysis system offers you a compact footprint, powerful software and Ethernet connectivity. It's the optimum solution for many real-time gas analysis applications. With the OmniStar, Pfeiffer Vacuum offers you a complete solution for gas analysis, in chemical processes, semiconductor industry, metallurgy, fermentation, catalysis, laser technology and environmental analysis. The turnkey OmniStar gas analysis system consists of heated, temperature-regulated gas inlet system, Quadrupole mass spectrometer, a dry diaphragm vacuum pump and HiPace turbopump. Unlike competing methods such as FTIR, OmniStar is suitable for qualitative and quantitative analysis of most gases.