Project Will Provide Stable Power to Children's Home
ROCKLIN, Calif., and ONTARIO, June 12, 2012—Last week SMA America joined representatives from NRG Energy, the Clinton Global Initiative (CGI) and the Solar Electric Light Foundation (SELF) on a charity mission to Haiti to install a 53 kW solar PV array at the Zanmi Beni Home for Children. The project site is in Santo, Haiti, a town located northeast of Port-Au-Prince.

Zanmi Beni is a project of Partners in Health and its Haitian sister organization Zanmi Lasante. It is designed to provide long-term care to children affected by the devastating earthquake in January 2010. Installing a PV system for the Zanmi Beni Children's Home will provide these children — many of whom have disabilities — with better, safer living conditions in their everyday lives. Solar power is also an economical option for the home due to Haiti's traditionally high energy costs and unreliable grid.
"This has been an exceptionally rewarding project and SMA was thrilled to have the opportunity to work with the NRG and the Clinton Global Initiative to help improve the lives of these children with solar power," said Jurgen Krehnke, president and general manager of SMA America and president of SMA Canada. "We were glad to supply the inverters for this system and to have some of our experts donate their time to travel to Haiti and help install the system."
SMA America supplied six Sunny Boy 9000 TL-US transformerless inverters, six Sunny Island 5048-US battery backup inverters and a Multicluster Box for the installation. The inverters will work with 236 Trina PA05 solar panels to create a hybrid off-grid/on-grid PV system with battery backup. This will allow Zanmi Beni to run most, if not all, of its load from solar electricity, resulting in the stable supply of clean, safe energy. This is one of many projects in progress to help Haiti rebuild from the 2010 earthquake and create a renewable energy infrastructure in the nation.
"In a country of many needs, the orphans of Zanmi Beni stand out as deserving special help," said David Crane, NRG Energy's CEO. "NRG was pleased to bring the light of solar power to the children but we could not have done so without the capable assistance of our partner SMA and their state-of-the-art Sunny Boy system."
The UL listed Sunny Boy 9000 TL-US installed in the system in Haiti features SMA's H5 topology, which results in efficiencies up to 98 percent and unmatched energy production. SMA's transformerless inverters are lighter weight and offer higher efficiencies and enhanced safety features to provide optimum value.
SMA's Sunny Island 5048-US enables off-grid operation with a battery bank. The Sunny Island is a self-sufficient AC voltage grid that meets SMA's highest quality standards. Each Sunny Island is equipped with best-in-class grid and battery management functions, including monitoring. As system manager, it collects real-time data and makes intelligent decisions based on battery state of charge, state of health, electrical loads and generation capacity. At times when the batteries are discharged and there is little generation capacity, it can activate a backup energy source (such as a generator) or switch off certain consumption loads.
The Multicluster Box, paired with SMA's US series of Sunny Islands, is an off-grid AC distribution hub that manages a variety of renewable and combustion generation sources for large-scale Sunny Island Multicluster systems. It simplifies the installation of off-grid PV systems, providing superior design flexibility and making rural electrification simple and scalable. It is ideal for installations up to 110 kW.
About SMA
The SMA Group generated sales of €1.7 billion in 2011 and is the global market leader for solar inverters, a key component of all PV plants. It is headquartered in Niestetal, near Kassel, Germany, and is represented in 20 countries on four continents. The Group employs more than 5,500 people worldwide, plus a number of temporary employees that varies on a seasonal basis. SMA's broad product portfolio includes a compatible inverter for every type of module on the market and for all PV plant sizes. The product range includes inverters both for grid-connected PV plants and for off-grid systems. SMA can therefore provide an ideal inverter solution for all plant sizes and types. Since 2008, the Group's parent company, SMA Solar Technology AG, has been listed on the Prime Standard of the Frankfurt Stock Exchange (S92) and also in the TecDAX index. In recent years, SMA has received numerous awards for excellence as an employer and in 2011 and 2012 achieved first place in Germany's nationwide Great Place to Work® competition.www.SMA-America.com/www.SMA-Canada.ca
Featured Product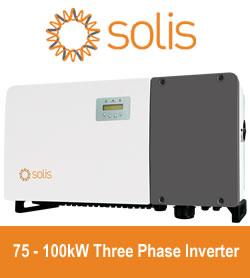 Solis75kW - 100kW series high-power string inverters are widely used in industrial and commercial rooftops. Solis's new three-phase string inverter is the first choice for industrial and commercial photovoltaics. 75-100kW three phase series string inverter have Maximum 28 strings input, support "Y" type connection in DC side. Maximum string input current 13A, support bifacial modules access.Supports anti-PID function to improve system efficiency.