Surpassing 13% module efficiency in 160W modules
TOKYO, June 11, 2012 – Solar Frontier has announced an upgraded product lineup spanning 140 - 160W modules - the "S" series - now commercially available from its 900MW capacity Kunitomi factory in Japan. Solar Frontier is the world's largest manufacturer of CIS thin film solar modules, using the key ingredients copper, indium, and selenium. Its CIS modules are installed on residential, commercial, and utility-scale projects worldwide.

The "S" series introduces positive sorting of -0/+5Wp, reflecting increased progress and confidence in the CIS production process at the Kunitomi plant. This allows customers to benefit from assured power ratings at or above the label value. The new 160W products have an aperture area efficiency of 14.1% and a module efficiency of 13.0%. As part of the portfolio upgrade, Solar Frontier is phasing out its 130W modules.
"Our Kunitomi factory continues to improve its performance as evidenced by our new, highly-efficient, 160W modules," said Hiroshi Yoshida, Vice President of Manufacturing at Solar Frontier. "We have a level of manufacturing excellence that stands as a great challenge to our competitors and assures our customers of high performance in our products. This will increase year by year." Modules are produced by the Kunitomi factory in a highly proprietary process that takes place entirely under one roof, from raw materials to installation-ready modules. This is an advantage that, combined with scale and automation, yields both high quality and cost effectiveness. Solar Frontier committed to CIS thin film in 1993 based on these advantages and the potential for better performance in both high heat and low light.
"The field results from more and more of our customers confirm our laboratory results, and this level of quality and performance will be the hallmark of our new lineup as well," said CTO Satoru Kuriyagawa. "The key to our advancements and the new lineup is actually hundreds of variables that we track and adjust. It is a very data-intensive process with ample potential for further improvements down the road." Kuriyagawa leads the Solar Frontier Atsugi Research Center (ARC), which is responsible for the conversion efficiency roadmap of Solar Frontier's products and supports the production efficiency of Solar Frontier's factories, all of which are located in Japan.
"Since Kunitomi's first commercial shipments last spring, the Atsugi Research Center team has become all the more confident in setting aggressive development goals," said Kuriyagawa. "New milestones for our efficiency roadmap are already within sight."
Atsugi Research Center achievements include pioneering work in the zinc oxide buffer compound that eliminates the need for cadmium. The Center is charged with developing and testing products that are able to deliver more kilowatt hours under actual operating conditions to meet the needs of residential, commercial and utility customers worldwide.
About Solar Frontier
Solar Frontier K.K., a 100% subsidiary of Showa Shell Sekiyu K.K. (TYO:5002) ("Solar Frontier"), has a mission to create the most economical, ecological solar energy solutions on Earth. Building on a legacy of work in solar energy since the 1970s, Solar Frontier today develops and manufactures CIS (denoting the copper, indium, and selenium elements of the absorber layer) thin-film solar modules for customers in all sectors around the world. Solar Frontier's gigawatt-scale production facilities in Miyazaki, Japan, integrate compelling economical and ecological advantages into every module: from lower energy requirements in manufacturing to the higher overall output (kWh) of CIS in real operating conditions. Solar Frontier is headquartered in Tokyo, with offices in Europe, the U.S.A., and the Middle East. Visit www.solar-frontier.com for more information.
Featured Product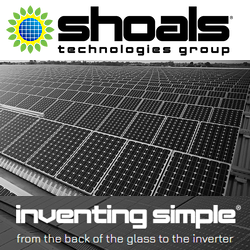 Inventing Simple® isn't just a slogan to us, it's a way of life. Using simple plug-and-play ideology, we revolutionized solar installations in 2003 with our Interconnect System™. Our harnessing system is now the gold standard EPC's use around the world. By using simple ideas, we are making solar energy a more affordable and clean power source for future generations.