Leading companies will showcase innovative systems for bio-, wind- and hydro energy, solutions for increasing the energy efficiency, e-mobility and environmental services. The Congress topics: Financing of EE & RES Projects, Energy Efficiency, RES Electricity, Bio Energy, etc.
9th SEE Congress & Exhibition on Energy Efficiency & Renewable Energy (EE & RE)

29-31 May 2013, Sofia, Bulgaria. Organizer: Via Expo

Your Shortcut to the South-East European Market

South-East Europe is a part of the global green revolution. Nearly 300 billion euros will be invested by 2020 in regional energy infrastructure, which will boost the economy by developing the bio-, wind-, solar-, geothermal- and hydro energy.

The 8th edition of the Energy Efficiency & Renewable Energy (EE & RE) Exhibition, held from 28 till 30 March, confirmed that the South-East European region is an attractive market for investors.

Exhibitor Profile

RES: Bioenergy; Geothermal; Solar Thermal and PV; Wind Energy; Energy Efficiency: Cogeneration; Energy-Efficient Equipment and Technologies in Industry and Construction; Retrofitting of Buildings; Passive Houses; E-Mobility.

Visitor Profile

Agriculture; Chemical Industry; Construction, Architecture; Consulting, Ecology (Waste Management & Recycling); Electronics; Power Engineering; Energy-Saving Technologies; Finance; Food Industry; Investment; Machine Building and Metallurgy; Packaging; Renewable Energy; State and Municipality Administration and Tourism.

The 2012 EE & RE, the SEE Solar and 'Save the Planet' Exhibitions

20% increase of the number of participants compared to 2011
Over 50 % of the exhibition area was covered by foreign companies
412 exhibitors from 33 countries
5750 visitors from 47 countries
Austrian and USA Pavilions
Group Participations within projects, financed by EU funds

The 2012 Congress on Energy Efficiency and Renewable Energy (EE & RE) presented the best environmental practices and shaped the challenges in the energy sector in South-East Europe. 45 renowned speakers from 18 countries and 250 delegates debated on the latest developments, problems and solutions related to project financing, energy efficiency, waste-to-energy and bio energy.

The event format was enriched by many parallel initiatives: U.S. Showcase on Energy Efficiency and Renewable Energy, Info Day about the EU Project 'Install+RES', Round Table with municipality representatives, etc.

The 2013 edition

A highlight in the program will be the topic 'Smart energy storage'.
High level speakers from the European Commission, the World Alliance for Decentralized Energy, the German Biogas and Bioenergy Society (GERBIO), etc.
The profile of attendees includes: Governmental and Local Policy Makers; Executives and Specialists in EE & RE, Utility, Construction; Investors and Financial Institutions; Municipality Experts; Branch Associations and Media, etc.
Among the confirmed participations 12 months before the event opening, are: Austrian Pavilion, Global Wind Power, Fronius, Sputnik Engineering AG (Solarmax), Diehl Ako Stiftung & CO. KG, IRES Bulgaria, etc.

Organiser: Via Expo

T/F+359 32 960 011, 945 459| E office@viaexpo.com| W www.viaexpo.com

Featured Product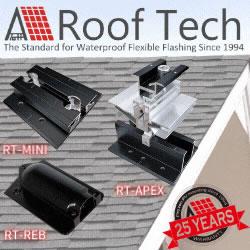 Now Roof Tech brings you the most innovative, watertight mounting systems ever developed for solar photovoltaic systems. Designed and manufactured exclusively for us by Japan's longtime leader in roofing technologies, Roof Tech products are 100% code-compliant and offer fast, simple installation and huge savings on shipping costs due to their compact, rail-less design. Learn more about our full line of versatile PV mounting solutions now available for residential installations. The next generation in rooftop solar mounting solutions."