Clarity Monitoring and Optimization System installed and operating at 12.5MW site
Solar Power Technologies (SPT), a leader in intelligent monitoring and optimization for large scale solar arrays, announced that their Clarity™ system is now operating at Lincoln Renewable Energy's (LRE) recently dedicated 12.5MW New Jersey Oak Solar plant.

Solar Power Technologies have installed the Clarity monitoring system along with its associated Intelligent Array™ management tools in the LRE project, located in Fairfield Township in Cumberland, NJ. The New Jersey Oak Solar project is the largest non-utility-owned solar project east of the Mississippi and one of the most advanced solar power plants in the U.S.
"Commissioning the New Jersey Oak Solar project was a significant milestone for the company," said Declan Flanagan, CEO of Lincoln Renewable Energy. "At LRE, we look to leverage the most advanced technologies on the market to maximize performance and financial return. We believe the intelligent analysis capabilities of the Clarity system will assist us in making Oak Solar one of the most advanced and efficient solar sites in the world."
"LRE is a great partner and we are very pleased that the Clarity system is now operational in the Oak Solar site," commented Ray Burgess, CEO of Solar Power Technologies. "Our Clarity system is providing an unprecedented level of visibility into the performance of this utility scale site, with fault identification and diagnostics down to the panel level. The ability to efficiently monitor performance at this level of detail and yet provide actionable O&M information based on user defined financial rules will be paramount for performance optimization in sites of this scale."
The Clarity system includes optimization and monitoring hardware products that can be deployed at the string or panel level to maximize energy harvest as well as innovative wireless communications and infrastructure products that enable scaling to the largest utility sites. The Clarity system also includes a suite of cloud-based software management tools, the Intelligent Array™, that deliver clear and concise actionable information by analyzing array performance, diagnosing impairments and precisely identifying remedial action to improve financial performance of solar assets.
The combination of Clarity system hardware and the Intelligent Array management tools herald a new era in the management of large scale solar sites, providing the insight and intelligence to maintain these valuable assets at optimal performance for their full active life, improving ROI and reducing financial risk.
About Solar Power Technologies
Based in Austin, Texas, Solar Power Technologies, Inc. was founded in 2009 and is focused on helping owners and developers maximize the financial performance of large scale solar assets. The company provides a range of compatible monitoring and optimization hardware products, supported by a suite of web based data management and analysis tools. The unprecedented level of insight provided by the Clarity™ hardware technology, coupled with the sophisticated data analysis and diagnostics of the Intelligent Array™ software system, enables next generation solutions for the operations and maintenance of large scale solar arrays. For more information on our solutions visit http://www.spowertech.com.
About Lincoln Renewable Energy
Lincoln Renewable Energy is in the business of developing solar and wind power projects across the United States from Greenfield concept through to commercial operation. LRE's management team has a proven track record in renewable energy development. Their efforts have led to the construction of more than 3,000 megawatts of renewable energy in North America and Europe over the past 10 years. For more information, please visit http://www.lincolnrenewableenergy.com.
Featured Product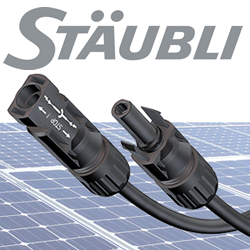 ​Stäubli Electrical Connectors are used on more than 300 GW, over 50% of the PV capacity worldwide. The MC4 family of UL and TUV listed products include connectors, in-line fuses, branch connectors, cable assembly and more.