Opening up of new markets, innovations for the end customer and groundbreaking marketing concepts take centre stage
Magdeburg/Munich. From 13th to 15th June 2012, the SOLAR VALLEY Saxony-Anhalt will showcase itself at the largest specialist trade fair in the solar industry, the INTERSOLAR Europe in Munich, with more exhibitors than in previous years.

The trade fair appearance under the umbrella of the Investment & Marketing Corporation Saxony-Anhalt mbH (IMG) has "combining forces and innovation capacity" as its guiding theme this year. The trade fair is – precisely at these very difficult times – a very good opportunity for the German solar companies to open up new markets, particularly abroad. "We support the companies in the process as the order situation is of crucial importance to the future of the companies", explains Dr Carlhans Uhle, Managing Director of IMG. For this reason, IMG and the Deutsche Gesellschaft für Internationale Zusammenarbeit (GIZ) GmbH are supporting the cluster of excellence SOLAR VALLEY Mitteldeutschland e.V. at an event on 14th June on the "prospects of success of German photovoltaic technologies in North Africa". The innovative edge of the products from the SOLAR VALLEY Saxony-Anhalt, precisely the focus on different PV-technologies, offer cost-effective, efficient and precise application possibilities for the new, young and diversified market of North-Africa.
The support for the solar industry in the state is substantial. The state government fervidly opposed the intended reduction in the promotion of solar energy and made a leading contribution to the fact that the reform of the renewable energy law in the Federal Assembly was transferred to the arbitration panel. Minister of Science and Economic Affairs of the German federal State of Saxony-Anhalt, Prof Dr Birgitta Wolff, states hereto: "Despite the difficult current situation of the PV-Industry, the industry will remain a worldwide growth market from which we aim to benefit. There is nowhere else where such intensive research and development is carried out as in Germany, especially in Saxony-Anhalt. We must not sacrifice our advancement in expertise and technology by a not well thought-our reduction in the subsidies for solar power. At the same time, our businesses have to strive to enter new market sectors. These include consumer-oriented system solutions which combine different types of renewable energies and intelligent control engineering."
In hall A6.170, seventeen exhibitors will use IMG Saxony-Anhalt's joint stand as a platform via which they can present their sites, innovative products and competences along the entire value added chain of the photovoltaic industry. Against the industry trend, following 2011 five further exhibitors from Saxony-Anhalt will be present in Munich.
Exhibitors at the joint stand:
*Calyxo GmbH
*EUROGLAS GmbH
*EWG Anhalt-Bitterfeld mbH
*Folienwerk Wolfen GmbH
*f l solar GmbH
*Fraunhofer CSP
*GeoContent GmbH
*Anhalt University of Applied Sciences
*iCon GmbH
*IMG
*MaxxContact
*Sontor GmbH
*Solar Valley Mitteldeutschland e.V.
*SRU Solar AG
*City of Sandersdorf-Brehna
*Vetro Solar GmbH
*Business Development Department of Halle (Saale)
ITS Innotech Solar Group, Q-Cells SE, Sovello AG and other companies from the SOLAR VALLEY Saxony-Anhalt will be represented as individual exhibitors at the trade fair.
SRU Solar AG shall present two new developments from the sector of solar construction this year. SRU Solar AG has already been successful with the VEGA hall systems in the industry sector. Thanks to new products such as the VEGA carport and the VEGA wooden hall, the end consumer is now directly addressed and photovoltaic systems are increasingly integrated into the individual household. SRU Solar AG is thus fully in line with the sector trend.
Calyxo GmbH will also attend the trade fair with new product innovations: the great research intensity surrounding the product and production process is paying off. Calyxo GmbH can demonstrate a cell efficiency of more than sixteen percent. This is above average in the thin layer technology sector and the research plan shows further increases in efficiency.
The Fraunhofer Center for Silicon Photovoltaics CSP which carries out applied research on silicon crystallisation, solar module technology and solar wafer production, is considered a milestone in the SOLAR VALLEY's solar research. The opening of the CSP in March this year is seen as an important sign of the sustainability of the photovoltaic industry in Saxony-Anhalt.
Research into more cost-efficient and long-life products and innovative industrial production technologies is the key to success for Saxony-Anhalt's solar sector. But the sector is also on the lookout for new marketing strategies. One example is Sontor GmbH. The market leader in the area of silicon tandem thin layer technology offers both product training and tours through its production department for future plant operators and for individuals.
Saxony-Anhalt's glass industry will present new products at the state's joint stand which set new standards in the area of sustainability and efficiency. In this way, additional new demand in the industry should be triggered. f I solar GmbH is currently working under high pressure on a solar glass that is only half as thick as the previous thickness of four millimetres and thus has high light and emission values. Furthermore, the "precision production" sector of solar glass is being expanded. EUROGLAS GmbH will present a new coating which guarantees optimum absorption results and considerably increases the energy efficiency.
Anhalt University of Applied Sciences will present its new range of courses on solar technology. It has already offered a joint degree in solar technology since 2008. From the next winter semester onwards, it will also be possible to study solar technology as a non-joint degree, an element from a package of measures in the sector to ensure specialist personnel in the SOLAR VALLEY region.
Background: Renewable Energies in Saxony-Anhalt
Renewable energies already cover 36% of the gross power generation in Saxony-Anhalt – this figure is 16% in the whole of Germany. Based on power consumption in the state, the percentage of sun, wind and biomass energy is about 70%. Furthermore, Saxony-Anhalt is also one of the frontrunners in the nationwide comparison of the manufacturing capacity for biodiesel and bioethanol. According to a study on the expansion of renewable energies in Germany (German Institute for Economic Research [DIW Berlin] and Zentrum für Sonnenenergie- und Wasserstoff-Forschung ZSW in 2010), more people work in the photovoltaic and wind energy sector in Saxony-Anhalt than in virtually any other German state.
The world's most modern wind turbines are in operation in Saxony-Anhalt – and they are also built here. 67% of renewable energy comes from wind energy. More than 4.4 billion kilowatt hours are fed into the public network every year. A quarter of the power generated from renewable energy sources can be attributed to biomass which is thus the second most important renewable energy carrier in Saxony-Anhalt.
The SOLAR VALLEY Saxony-Anhalt around the town of Thalheim near Wolfen (district of Anhalt-Bitterfeld) has evolved to become an internationally important photovoltaic site with about 4,000 employees in companies and research along the entire value added chain.
About Intersolar Europe:
Intersolar Europe is the world's biggest specialist trade fair in the solar industry. The trade fair focuses on the sectors of photovoltaics, photovoltaic production technology and solar thermal energy and has established itself as an internationally leading trading fair among manufacturers, suppliers, distributors and service providers since it was founded.
In 2012, around 2,000 exhibitors will present their products and services over a 170,000m² exhibition space in 15 halls and a large open-air ground to the north of hall B5. In 2011, around 72,000 visitors from 150 countries attended. Around 1,880 companies, more than half of which from abroad, showcased their innovations. 80,000 international visitors from 150 countries are expected this year.
IMG is the economic development agency of the German federal state Saxony-Anhalt. IMG staff provides all services related to new business sites. In addition, we are marketing Saxony-Anhalt both nationally and internationally and developing tourism concepts.
We search our site and property database with 250 industrial and trade estates for a location tailored to your needs. We provide competent and individual advice for greenfield and brownfield sites, office properties or production halls. First site information provided within 24 hours. Arrangement of site visits take place following your preliminary selection. We can advise you on public grant programmes for investments, identify potential partners and arrange meetings with them. We identify a point of contact for you with the public authorities, coordinate and carry out negotiations for you on a federal state, state district and municipal level as well as with official bodies and institutions. We were assigned by the Ministry for Science and Economic Affairs of Saxony-Anhalt to guide you as a one-stop agency through the investment process.
Our services are free of charge for you!
Featured Product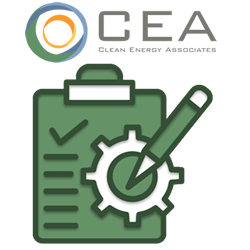 Clean Energy Associates provides a complete quality assurance solution that covers the entire product lifecycle of PV modules, storage systems, and every Balance of Sy stem (BOS) component. CEA's experienced on-the-ground and international team of quality control engineers and account managers offer an unparalleled quality assurance presence that can protect solar and storage investments and ensure future energy-producing viability for the life of the product.