The main aim of this project is to facilitate access to a supply of power for the Pakistani population and to make the country less vulnerable to power outages at the same time.
Bahawalpur / Hamburg, 12 June 2012 – Conergy has joined forces with energy solutions provider and project developer Ensunt to realize a 50 megawatt solar power plant for the DACC Power Generation Company Limited (DPGCL). The project will be the largest solar power plant in Pakistan and one of the landmark projects in the entire Middle East and Indian region. The project in Bahawalpur, situated in the Cholistan region, is owned by DPGCL and the Pakistani Government, which have now partnered with Conergy to provide the overall planning, engineering and design of the solar park. Conergy will also be supplying its premium "Made in Germany" components for this large-scale project. Ensunt will provide the local implementation as well as the construction work on site.

The main aim of this project is to facilitate access to a supply of power for the Pakistani population and to make the country less vulnerable to power outages at the same time.
Doug Melvin, President of DPGCL, said: "The 50 megawatt power plant is the biggest solar project for the Government of Pakistan. Currently, the region is heavily dependent on hydroelectric plants as an energy source. The results are high fluctuations in the energy supply, power outages or shortages. In response to requests from the President, the Prime Minister and his cabinet are working to prevent the shortage of energy, while providing a clean renewable energy source, sustainable economic development, and job creation in Pakistan."
DPGCL and Ensunt have teamed up with Conergy to assist the Pakistan government to be responsive to the needs of the people and mitigate the power shortages throughout Pakistan.
"After a comprehensive comparison of products and capabilities, DPGCL and Ensunt decided in favor of Conergy for supplying all our needs. We are even looking beyond these 50 megawatts. It is a great comfort to DPGCL and the Government of Pakistan to partner with a company such as Conergy as the sole source provider for our planning, design and component requirements in Pakistan. We are confident that the exceptional quality of Conergy components and their proven expertise will pay off in the long-term through a stable supply of power," Doug Melvin added.
Marc Lohoff, Conergy Board Member and CSO Asia Pacific and Americas, said: "This prestigious project is a milestone for Conergy and the Asia & Middle East team. It shows that we are extremely well positioned in the Asian growth markets and that investors trust Conergy for important projects, especially those focusing on quality and longstanding experience. The potential in Pakistan is enormous: Currently, only 63 per cent of the country's total population is supplied with power. Due to the decentralized character of this form of energy and the high insolation levels, solar energy is ideally suited to close this gap and to supply the population with safe, clean and affordable energy. At the same time, solar power can support the economic development of the country."
Dr. Philip Comberg, Conergy CEO, added: "We are very satisfied with the development of our business in the second quarter of 2012 so far. This project is another step forward in our interesting project pipeline for 2012. It underlines the relevance of the Asian solar markets, their growth potential and further reflects Conergy's excellent market access, global footprint and ambitions in Asia. We made the right decision to focus on growth markets and we aim to increase our footprint not only in Asia but in the Americas as well."
Once the power plant is completed, the 210,000 Conergy PowerPlus modules on some 131 miles of SolarLinea mounting systems will produce more than 78 gigawatt hours of clean energy per year. More than 140 Conergy IPG 300C central inverters will then feed the solar power into Pakistan's grid, supplying 30,500 households with power. Besides private households, agriculture will also benefit from this power: for instance by using it to run water pumps to water fields and crops. A reliable power supply is further indispensable for maintaining the productivity of companies and of the economy.
Because of the shortage of power in Pakistan, parts of the country can occasionally be left without any energy supply for up to 18 hours a day. This results in lower productivity, economic instability and social unrest. The Pakistan government has now responded to the situation by scrapping import duties on solar systems thus creating investment incentives for solar power plants. With 8-9 hours of sunshine per day and annual insolation values of more than 1,700 kilowatt hours per square meter, the climatic conditions in Pakistan are ideal. The country's government therefore hopes to achieve greater social and economic stability in the country through solar investment and a more stable energy supply.
About Conergy
Conergy delivers solar energy systems from a single source. As a system supplier, Conergy offers all components for a solar installation as well as all related services.
With its portfolio of modules, inverters and mounting systems, the solar expert creates Conergy System Technology, which is efficient solar energy systems for private or commercial rooftops, as well as for multi-Megawatt Parks.
Conergy System Services deliver a "Worry-Free Package" for Conergy solar installations – from "A" for architectural planning to "Y" for yield insurance and "Z" for zero trouble. Conergy's experts not only install on-site turn-key solar projects, but they also manage the planning and financing, project implementation, system monitoring, operation and on-going maintenance of the project for maximum performance. With this comprehensive technology and service package, Conergy offers yield insurance for its installations.
Conergy System Sales brings Conergy premium products to more than 40 countries. From "A" for Australia to "T" for Tunisia – the solar expert supports homeowners, installers, wholesalers and investors in their efforts to "go solar". With sales activities on five continents, Conergy has close relationships with all its customers. In 2011, around three quarters of Conergy's sales were generated outside of Germany.
Listed on the Frankfurt stock exchange, Conergy employs around 1,300 people worldwide. Since Conergy's founding in 1998, it has produced and sold 2 GW of clean solar energy. Thus, in 2011 Conergy solar installations have generated more power than a nuclear reactor.
About DPGCL
DACC Power Generation Company Limited is a subsidiary of US-based DACC Global, an alternative energy company focused on providing alternative energy into developing markets internationally. Together with the worldwide reach of the DACC global network, the company's combined resources allow for the procurement, deployment and installation of utility-scale solar projects worldwide, as well as a complete line of specialty solar solutions. The company relentlessly pursues innovation, integrating the latest technological advances in alternative energy into sustainability solutions.
About Ensunt
Ensunt in UAE is a subsidiary of Ensunt Holdings, Hong Kong, a family office oriented investment firm. The focus of the investments lies in managing and financing renewable energy and cleantech projects worldwide with a high affinity to the design and building of renewable energy technologies.
The primary vision is managing the integration of sustainable energy generation into existing power systems. Priding itself in its management, qualified technical team as well as strong partnerships Ensunt provides flexible and reliable investment opportunities.
Ensunt greatly peruses the goal of contributing to all sustainable energy initiatives and leading in corporate and social sustainability issues.
Ensunt worldwide network provides decentralized and off grid communities' with vital energy.
Featured Product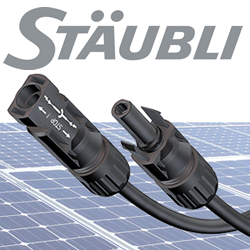 ​Stäubli Electrical Connectors are used on more than 300 GW, over 50% of the PV capacity worldwide. The MC4 family of UL and TUV listed products include connectors, in-line fuses, branch connectors, cable assembly and more.