Keynote speaker Wanda Reder of S&C Electric Company will be speaking on Future Trends in the Power and Energy Industry. Wanda is the Vice President of the Power Systems Division and has consulted on projects with the largest wind power developers in the world.
In an effort to address the fast changing engineering requirements of today's industry, the Institute of Electrical and Electronic Engineers, in cooperation with Argonne National Laboratories present a technical conference that will address the challenges engineers face and must address on a daily basis, and to prepare for and develop the skills and tools for future solutions to these engineering issues.

Technical experts in related engineering fields will offer comprehensive presentations on topical subjects, suited to today's engineer looking at tomorrows opportunities. The program provides two separate tracks, offering a diverse, yet informational series of knowledgeable speakers, experts in their fields, in different related subject matters.
This technical conference will offer an insight into the latest in energy related updates, new information on engineering issues from a personal level, development of new technology, and thought provoking engineering skills enhancement.
The Keynote speaker committed to this program is Wanda Reder of S&C Electric Company. Wanda Reder is an M.B.A. from the College of St. Thomas and currently serves as the Vice President of the Power Systems Services Division at S&C Electric Company. Wanda has consulted on projects with the largest wind power developers in the world. Prior to S&C, Wanda held numerous leadership roles at Exelon and Northern States Power. Wanda's career has included stops in asset investment strategy, standards engineering, system planning, and reliability. The immediate Past-President for the IEEE Power & Energy Society, Wanda also has served on the Governing Board of PES since 2002. Wanda currently chairs the IEEE's Smart Grid efforts and serves on the IEEE Women in Engineering Governing Committee. A tireless advocate for researching, publishing and presenting on future workforce needs in the power industry, Wanda's efforts have culminated in the IEEE Power & Energy Engineering Collaborative. Wanda was recently named a Fellow of IEEE for her work on "Leadership in Power Engineering Implementation and Workforce Development."
Featured Product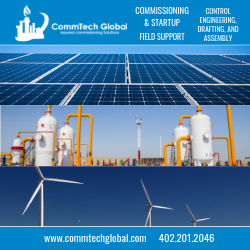 CommTech Global Solutions, LLC, provides professional and reliable commissioning services to customers in all realms of the energy industry. We blend our skills in engineering and technology with innovative business models, offering a complete range of services to assist you for a successful and in compliance operational startup. Consolidation of all our service domains gives our clients a comprehensive set of expertise and far-reaching experience on each project.