Germany's energy sector may become uncompetitive under current policy
London, UK, 19th June, 2012 – In this day and age of political correctness and aversion to controversy it is rare for a business leader to publicly express their frustration at a political decision. So it was refreshing to hear Dr. Bernhard Fischer, head of Germany's E.ON Generation GmbH, talk candidly about the impact the Merkel government's radical change in energy policy post-Fukushima is having on his business.

Speaking last week at the Opening Keynote address of the POWER-GEN Europe Conference & Exhibition in Cologne, Dr. Fischer described the policy change, known as the 'Energiewende' as a "political wish that is without a realistic view of what is achievable" by the power industry.
The Energiewende, which translates in its simplest form as 'energy transition' or energy transformation', became law last summer and will see nuclear power phased out in Germany by 2022 and compensated by a significant boost in renewable energy capacity – doubling its share in electricity consumption to 35 per cent in 2020.
However, as is well documented, the output from renewable resources, such as wind and solar is intermittent in nature, creating volatility in the energy system. Already, conventional power generation resources, said Dr. Fischer, are being "stretched" to support the country's existing renewable energy installed base.
Many believe this effect has been exacerbated by Chancellor Merkel's decision to shutdown almost half of Germany's operating nuclear power station immediately after Fukushima, with the lost of 8 GW of key baseload capacity.
And with the expected surge in renewable capacity coming on line before 2021, Dr. Fischer emphasised that these conventional plants would be facing an "even greater challenge" in the coming years to compensate for this intermittency.
Germany's growing renewable energy base was also "challenging" the grid, creating the need for a massive overhaul of the grid system. But according to Dr. Fischer, this was for the first time being driven by "pure need and restrictions" rather than "profitability", which is not good news.
Dr. Fischer described Germany as a "pacemaker" in the world" over the last ten years, yet after Fukushima "everything that had been achieved" regarding the life extensions of the country's nuclear fleet had been "undone".
And he asked what had been the result of this decision? "No risk was reduced. No new strategy was implemented." All that was achieved, he said, was that "politicians proved that they could make a decision... and the public appreciated this."
Although Dr. Fischer conceded that the Germany energy policy was not 'technically impossible" to achieve, he emphasised that it was "necessary to do so in the right way".
This, as far as he was concerned, had not been achieved. In relation to the nuclear withdrawal decision, he said "No expert was asked. No risk assessment was done."
This sentiment was echoed by Thorsten Herden, managing director of the German engineering federation, the VDMA, who participated in a plenary panel discussion at POWER-GEN Europe. He confirmed that the decision had been essentially made by the Merkel government "without a proper consultation process" involving the industry or other stakeholders. However, he added that in his opinion the Energiewende was "irreversible".
Also participating in the panel discussion, which was moderated by journalist and TV broadcaster Stephen Sackur, was Dr. Werner Gotz, a member of the board and chief technology officer of German utility, EnBW Kraftwerke AG.
Although, Dr Gotz accepted that the Enegiewende was needed not just in Europe but worldwide as part of the transition toward a low-carbon future, he criticised the speed of Germany's energy transition, calling it "too quick".
Two out of EnBW's four nuclear power stations fell into the group forced to shutdown immediately post-Fukushima, and this he said was "severely hitting his bottom line".
However, unlike private energy utilities, such as E.ON, who is seeking $10 billion in damages from the Merkel government for the accelerated phase-out of nuclear, EnBW, which is publicly-owned, does not enjoy this luxury, leaving the utility to swallow the sizeable costs of owning stranded nuclear assets.
Both within and outside of Europe, Germany has long been seen as an energy trend-setter, but the rapidity of the 'Energiewende' may represent a step too far.
According to the VDMA's Herden, for any country looking for a low-carbon transition of its power sector, what is fundamental is that "infrastructure and capacity are developed together". This has not happened in Germany so there is a mismatch between demand and supply. "Germany is a perfect example of what not to do," Herden concluded.
According to Dr. Fischer, if the German energy policy is to achieve its aims it needs "coordination, coordination, coordination", as well as time, money and acceptance. A sentiment echoed by Dr. Gotz, who emphasized the need for "all interested parties to come together".
This concern over the lack of coordination follows on from recent comments from Fulvio Conti, CEO of Italian power company Enel and the current president of Eurelectric, the body representing Europe's utility companies.
Speaking at Eurelectric's annual symposium held earlier this month, Conti told delegates that Europe's power sector was "uninvestable" at the moment because of "uncertainty" and a lack of "coherence".
However, bridging the current gap between Europe's power industry and the politicians to bring them together may be much easier said than done.
Notes for editors
For interested parties wishing to view the lively plenary session online, please visit www.powergeneurope.com and click on the plenary image on the home page. A video of the keynote session will be available soon on www.powergeneurope.com and on the "PowerGen TV" iTunes channel. To subscribe please click the following link http://itunes.apple.com/us/podcast/power-gen-tv/id409061915
Images of the keynote presentations and plenary debate are available from Aspectus PR upon request (contact details below)
About PennWell events
Renewable Energy World Europe and POWER-GEN Europe are owned and organised by PennWell Corporation. These events form part of a series staged annually in North America, Europe, Asia, and the Middle East, and provides exhibitors with an international 'one-stop-shop' for penetrating markets and presenting their products and services to a global audience. For delegates and visitors, the events offer a dedicated forum tailored to their specific regional needs, putting them in touch with suppliers of solutions to their particular problems. The conferences address topical issues critical to the development of power generation in the host region. www.renewableenergyworld-europe.com
• Renewable Energy World Europe
Renewable Energy World Europe encompasses the need for greater inclusion of renewable sources into the energy mix as governments strive to ensure the supply of power and electricity sufficiently meets the ever increasing demand.
• POWER-GEN Europe
POWER-GEN Europe is the Continent's premier conference and exhibition, and the place where the power industry comes to meet, share information and do business. A three-day event, it comprises a busy exhibition floor populated by major power industry players. Alongside the exhibition, a high-level multiple track conference offers insightful and thought-provoking presentations detailing the latest strategies and technology developments and delivered by leading experts in the power industry.
About PennWell
Established in 1910, PennWell Corporation is a leading international multimedia provider of business intelligence, producing 45 print and online publications, and over 60 conference and exhibitions, research, databases, internet-based services and other information products to strategic global markets. PennWell POWER-GEN conferences and exhibitions are the world's leading business-to-business power generation events, together connecting over 50,000 industry professionals each year. In addition to its headquarters in Tulsa, USA, PennWell has offices throughout the world, including England, Germany, Russia and Hong Kong, to provide its customers and partners with a truly global service. www.pennwell.com
Media contact:
Amy Redhead
Tel: +44 (0) 20 7242 8867
Email: amyredhead@aspectuspr.com
Web: http://www.aspectuspr.com
Featured Product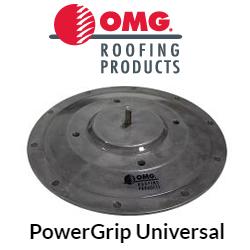 Eliminate Solar Rack Ballast and Reduce Rooftop Material Handling. PowerGripâ"¢ Universal (PGU) is a commercial roof mount system designed to secure solar racks and other equipment to any type of commercial roofing system. PGU provides a secure connection directly to the roof deck or structural members and is designed to reduce or eliminate ballast in solar racking systems, so there's less weight on the roof and less material handling. Made of heavy-duty cast aluminum, PGU units include a base ring which is secured through the roofing cover and into the structural roof deck, and a waterproof top plate.