Colorado School of Mines, Colorado State University and University of Colorado will partner with Cleantech Fellows Institute to encourage new venture formation, job creation and growth of the cleantech industry
DENVER – (June 18, 2012) – Colorado's public universities are teaming with the Colorado Cleantech Industry Association's newest program to offer executive training in clean technology ventures to individuals outside of the industry. The Cleantech Fellows Institute addresses a simple but bothersome problem: not enough seasoned executives in the cleantech industry. The objective of the program is to help experienced entrepreneurs and executives accelerate their transition into the cleantech sector, stimulating new venture formation, job creation and growth of the cleantech industry.

The Cleantech Fellows Institute is the first of its kind with a national focus and is accepting applications now through July 27. The program will begin in September and combines seminars, lectures, lab visits, capstone and other business planning projects within the university settings at Colorado School of Mines, Colorado State University and the University of Colorado.
"Providing introductions to the national cleantech eco-system, world-class technology and a strategic understanding of the industries within cleantech to seasoned entrepreneurs is critical to venture formation," said Cleantech Fellows Institute Director Wayne Greenberg. "Our unique partnerships and collaborations with the university and research community in Colorado makes the state an ideal location to promote, build and grow a successful clean technology startup."
The technologies used to develop the venture-backed companies are emerging from research laboratories at the three universities and the Department of Energy (DOE) National Renewable Energy Laboratory (NREL). Targeted executives are those who have built successful companies in different sectors such as aerospace, biotechnology and enterprise technology.
"CU's research laboratories are developing sophisticated, clean technologies with significant market potential," said David N. Allen, CU's Associate Vice President for Technology Transfer. "Combined with the leadership expertise of the executives coming into the Cleantech Fellows
Institute, we believe these technologies have a high potential for success in the commercial world."
"The Colorado School of Mines prides itself on educational programs based on cutting-edge emerging technologies and on real-world collaboration with leading business people as part of our instructional offering," said Will Vaughan, Director, Technology Transfer at Colorado School of Mines. "Partnering with the Cleantech Fellows Institute gives us another opportunity to work at the nexus of academia and entrepreneurship."
The key to the program's success will be the executives' exposure to commercially-ready technologies from Colorado sources. Working with the universities and energy laboratories, as well as a team of cleantech industry insiders, the executives will develop a deep understanding of the technologies being developed at each institution. Each executive will select a technology that sparks their interest and plan a capstone project to present in January 2013.
"As CSU's chief advocate for research activities and the promotion of CSU technology into the marketplace, I am excited to be a part of this cleantech era of technology development and commercialization," said Bill Farland, Vice President of Research at Colorado State University.
"CSU is working to ensure that our most significant innovations are getting out into the marketplace to the people who need them, and our partnership with the Fellows Institute supports that mission."
The Cleantech Fellows Institute was created by the Colorado Cleantech Industry Association and is supported by NREL and Advanced Energy Economy (AEE), a national business organization of which CCIA is a founding chapter.
Information on how to apply for the program is located at cleantechfellows.com.
About Cleantech Fellows Institute
The Cleantech Fellows Institute is an exclusive program designed to facilitate the creation of venture-backed clean technology companies. The Cleantech Fellows Institute will educate a highly select set of proven executives from across the country, and from a wide variety of industry sectors, that are interested in making the transition to cleantech. For more information, visit http://www.cleantechfellows.com
About Colorado Cleantech Industry Association
The Colorado Cleantech Industry Association (CCIA) represents the interests of the state's cleantech industry. Its mission is to further establish Colorado as a world leader in clean technology by providing representation and advocacy, a unified voice, relevant programming and capacity development. For more information, visit http://www.coloradocleantech.com.
Featured Product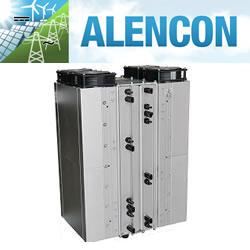 Alencon Systems is the premier manufacturer of high power, high voltage DC:DC optimizers for alternative energy applications including solar, battery energy storage, Microgrids, Fuel Cells and Electric Vehicle charging. Alencon's DC:DC converter offerings include the SPOT, BOSS and CUBE series DC:DC converters. The SPOT is a modular, uni-directional DC:DC solution ideal for solar applications. The BOSS is a modular, bi-directional unit for use with battery energy storage. The CUBE is a monolithic DC:DC converter which is available in both uni-directional and bi-directional modalities. Pictured above, is the Alencon SPOT.