Von Boch investor family chooses Conergy quality "Made in Germany"
Hamburg, 14 June 2012 – Hot on the heels of the opening of its 8 megawatt solar park in Grimmen in Mecklenburg-Western Pomerania, Conergy announces a new project in the Saarland region. The 10.5 megawatt power plant that the system supplier is building on the historic Linslerhof estate, owned by the von Boch investor family, will be the Saarland's biggest solar installation. The solar park is being built near the French border, on an area of land alongside a railway line. Just like at the headquarters of their porcelain manufacturing company, Villeroy & Boch, 40 kilometres away, the family has opted for 100% German quality: Conergy will act as main contractor and will be responsible for the installation of the park as well as the supply of Conergy components.

"The planned changes to solar subsidies naturally had an influence on our decision," says Wendelin von Boch. "We are on a tight schedule, as the park has to be finished by the end of June. We therefore needed to find extremely reliable and professional partners, and that's why we have turned to Conergy. We are looking for high quality, not only in planning and implementation, but also in the components – we know from experience that quality always pays off."
Conergy Board Member Alexander Gorski comments: "We are delighted to have won this challenging and prestigious project. Our customers trust Conergy and highly regard our years of experience and the quality of our installations. As a company, Conergy is in a strong position. In Germany, but also abroad, where we are enjoying a lot of success in our sales. In 2011 we set a new course for Conergy's future with the successful refinancing and numerous restructuring measures. We are already starting to reap the benefits of these measures. Not only through an improved cost structure, but also through the number of projects that we are winning, such as this one for the von Boch family."
Along with a focus on quality, for many years the von Boch family have concentrated on environmental issues at their historic hotel. Food, drink and equipment are all from Germany, mostly, actually, from the immediate surrounding area. Water for non-drinking purposes is drawn from the estate's own well in order to save water. Alongside the 500 kilowatt rooftop installations, the idyllic 815-acre property now boasts a solar power plant. 44,000 Conergy PowerPlus modules on Conergy SolarLinea mounting systems will produce clean energy from this summer onwards, which will then be fed into the grid by 30 Conergy IPG 300C central inverters. In total, the solar installations on the property will generate more than 10,000 megawatt hours of solar power per year – enough electricity to supply 90% of the townspeople in Überherrn with electricity or 20 times as much as the needs of the hotel and spa complex on the estate.
It is not only the Linslerhof that is setting a precedent: Überherrn's mayor, Bernd Gillo, has also been promoting alternative energy sources in his community since 2008 by having all public buildings fitted with solar installations. "We are responsible for the next generation, therefore sustainable, emission-free energy is very important, especially where tourism is concerned. That is why we are delighted about the new installation being built on the Linslerhof estate," says Mayor Gillo. "The local community can play an active role in the shift towards alternative energy – they can take a share of the Linslerhof solar plant via a small citizens' solar park."
Download Link Photo 1: Conergy solar park Thüngen, Germany (19 MW)
https://us.vocuspr.com/ViewAttachmentStrict.aspx?EID=KAcwoGPC5BP2%2fThr9hqgBB6N3NOuT6r7rWBOC83YG%2bo%3d
Download Link Photo 2: Conergy solar park Thüngen, Germany (19 MW)
https://us.vocuspr.com/ViewAttachmentStrict.aspx?EID=KAcwoGPC5BP2%2fThr9hqgBFSgM1aSJKhE8HCKmLgibIg%3d
Download Link Photo 3: Conergy solar park Thüngen, Germany (19 MW)
https://us.vocuspr.com/ViewAttachmentStrict.aspx?EID=KAcwoGPC5BP2%2fThr9hqgBONHvn2EQ6e6uPcoMlEnlDM%3d
Download Link Photo 4: Conergy solar park Grimmen, Germany (8 MW)
https://us.vocuspr.com/ViewAttachmentStrict.aspx?EID=KAcwoGPC5BP2%2fThr9hqgBJpH7LvQaXE1GPjJj5ghkrg%3d
Download Link Photo 5: Conergy solar park Grimmen, Germany (8 MW)
https://us.vocuspr.com/ViewAttachmentStrict.aspx?EID=KAcwoGPC5BP2%2fThr9hqgBG46Vp07gmtpCDkPGWOygIA%3d
About Conergy
Conergy delivers solar energy systems from a single source. As a system supplier, Conergy offers all components for a solar installation as well as all related services.
With its portfolio of modules, inverters and mounting systems, the solar expert creates Conergy System Technology, which is efficient solar energy systems for private or commercial rooftops, as well as for multi-Megawatt Parks.
Conergy System Services deliver a "Worry-Free Package" for Conergy solar installations – from "A" for architectural planning to "Y" for yield insurance and "Z" for zero trouble. Conergy's experts not only install on-site turn-key solar projects, but they also manage the planning and financing, project implementation, system monitoring, operation and on-going maintenance of the project for maximum performance. With this comprehensive technology and service package, Conergy offers yield insurance for its installations.
Conergy System Sales brings Conergy premium products to more than 40 countries. From "A" for Australia to "T" for Tunisia – the solar expert supports homeowners, installers, wholesalers and investors in their efforts to "go solar". With sales activities on five continents, Conergy has close relationships with all its customers. In 2011, around three quarters of Conergy's sales were generated outside of Germany.
Listed on the Frankfurt stock exchange, Conergy employs around 1,300 people worldwide. Since Conergy's founding in 1998, it has produced and sold 2 GW of clean solar energy. Thus, in 2011 Conergy solar installations have generated more power than a nuclear reactor.
Please contact us if you have any questions or requests.
www.conergy.us
Featured Product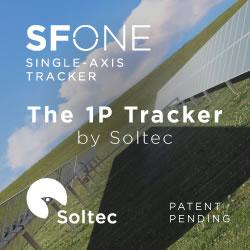 SFOne is the 1P single-axis tracker by Soltec. This tracker combines the mechanical simplicity with the extraordinary expertise of Soltec for more than 18 years. Specially designed for larger 72 an 78 cell modules, this tracker is self-powered thanks to its dedicated module, which results into a lower cost-operational power supply. The SFOne has a 5% less piles than standard competitor, what reduces a 75% the labor time.