Rock Wind, LLC completed the first installation of a remanufactured 250KW Turbine at Eswood School, in Lindenwood IL.
Rock Wind, LLC (Rockford, IL) had recently completed the contractual agreements between Freedom Fields and Eswood Community school to install a 250KW re-manufactured turbine at the school. The installation began May 30, 2012. The estimated electrical connection completion date is July, 2012. This is the first re-manufactured turbine shipped after extensive research and development by the Rock Wind group to provide a better-than-new 250KW turbine at price point of 100KW turbines.

Rock Wind's solution to expensive renewable wind energy resources, is to re-manufacture decommissioned wind turbines, utilizing new components and technology. By securing agreements with 22 various local suppliers and increasing the economic development of the community, Rock Wind has created additional new jobs in the alternative energy sector.
The Rock Wind 450 and Rock Wind Turbo 100+ are cost effective refurbished turbines that exceed the original manufacturers' specifications. The Rock Wind Turbo 100+, the newest entry into this market, meets the critical criteria of various government organizations as it pertains to funding of 100KW community scale projects. The Rock Wind Turbines are intended to be utilized "behind the meter", eliminating the long term costly process of PPO agreements.
www.Rock-Wind.com
Featured Product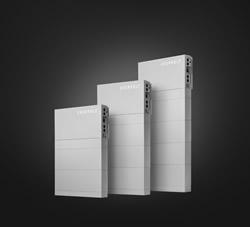 Extract maximum power production from every roof size and shape. HIT® AC Series combines the module efficiency of Panasonic solar panels with the intelligence of Enphase microinverters. A built-in IQ 7X microinverter with Individual MPPT (Module-level Power Point Tracker) tracking helps deliver an all-in-one module that offers design flexibility, reduced installation time, and a higher ROI. Field-replaceable microinverter with no DC wire management required yields lower cost of ownership.