Installation marries solar power with electric vehicle charging
HILLSBORO, Ore., June 25, 2012 – CALSTART, North America's leading consortium to promote clean transportation technologies, today unveiled an 84.5-kilowatt solar array at its headquarters in Pasadena, Calif. The installation combines high-performance solar panels from SolarWorld, the largest U.S. solar manufacture for more than 35 years, with five electric vehicle charging stations. The project demonstrates the marriage of solar power and electric-vehicle charging for CALSTART's member organizations – hundreds of manufacturers, suppliers, vehicle-fleet owners, government agencies and policy-makers working to commercialize clean transportation technology across North America.

CALSTART's solar array is composed of 338 mono-crystalline silicon solar panels manufactured by SolarWorld in Hillsboro, Ore., and installed by SoCal Solar Energy, a SolarWorld authorized installer based in Mission Viejo, Calif. With 78 solar panels mounted on the headquarters roof and 260 installed on a carport canopy custom-designed by SoCal Solar Energy, the system is expected to generate enough clean power to offset 80 percent of CALSTART's energy needs at the Pasadena facility, including power to supply the car chargers.
At a ribbon-cutting ceremony today, CALSTART President and CEO John Boesel welcomed dignitaries and CALSTART consortium members, including U.S. Rep. Judy Chu, Pasadena Mayor Bill Bogaard and Phyllis Currie, general manager of Pasadena Water and Power. The event showcased the solar array and charging stations as well as examples of cutting-edge electric and hybrid vehicles.
"This solar installation is a real-world demonstration of how employers can use solar technology and electric-vehicle charging to meet their triple bottom line: protecting the environment, providing benefit to their employees and saving money on energy costs now and for decades to come," Boesel said. "We're especially pleased that the solar panels from SolarWorld are made in the United States, creating high-quality American jobs."
CALSTART is a member of the Plug-in Electric Vehicle Collaborative, a group of auto manufacturers, suppliers and government agencies working to facilitate deployment of electric vehicle charging stations in California. Moreover, the organization has initiated a program to promote workplace electric-vehicle charging, developing a rapid information-sharing network for employers nationwide to learn from each other how best to integrate chargers.
"SolarWorld welcomes this opportunity to partner with CALSTART, an organization engaged in commercializing clean, efficient technology in the transportation sector," said Kevin Kilkelly, president of SolarWorld Americas. "CALSTART's focus on addressing our nation's air-quality, climate-change and energy-independence challenges dovetails with our own mission to deploy American-made solar technology manufactured according to the highest standards of environmental protection and quality."
About SolarWorld (www.SolarWorld.com)
SolarWorld (ISIN: DE0005108401) is a worldwide leader in offering brand-name, high-quality, crystalline silicon solar-power technology. The company's strength is its fully integrated solar production. From silicon as the raw material through wafers, cells and panels all the way to turn-key solar systems of all sizes, the group combines all stages of the solar value chain. The central business activity is selling high-quality panels into the installation and distribution trades and wafers to the international solar cell industry. Group headquarters are located in Bonn, Germany, with sales sites in Singapore, South Africa, Spain, France as well as in the U.S. state of California. The group's largest production facilities operate in Freiberg, Germany, and Hillsboro in the U.S. state of Oregon. Sustainability is the basis of the group strategy. Under the name Solar2World, the group supports community aid projects using off-grid solar-power solutions in developing countries, exemplifying sustainable economic development. Worldwide, SolarWorld employs about 3,300 people. SolarWorld AG has been quoted on the stock exchange since 1999 and today is listed on, among others, the TecDAX and ÷koDAX as well as in the sustainability index NAI.
About CALSTART (www.calstart.org)
CALSTART, North America's leading clean transportation technologies and solutions consortium, is the only organization working nationally to foster the rapid growth of the entire clean transportation technology industry. CALSTART serves as a catalyst for the comprehensive clean transportation industry as a way to create more jobs, clean the air, make the country more secure, and reduce the threat of global warming. CALSTART manages leading-edge technology programs while providing value-added services to its 150 member companies and consulting clients.
Featured Product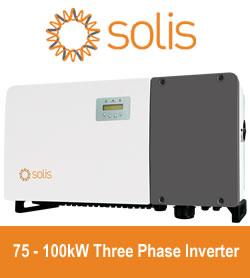 Solis75kW - 100kW series high-power string inverters are widely used in industrial and commercial rooftops. Solis's new three-phase string inverter is the first choice for industrial and commercial photovoltaics. 75-100kW three phase series string inverter have Maximum 28 strings input, support "Y" type connection in DC side. Maximum string input current 13A, support bifacial modules access.Supports anti-PID function to improve system efficiency.