The market for biogas sits at the confluence of a number of forces, including increasing demand for distributed generation, tightening environmental regulations, and accelerating buildout of infrastructure for natural gas powered vehicles.
June 21, 2012 - Although a relatively minor player within the overall bioenergy sector, the market for biogas sits at the confluence of a number of forces, including increasing demand for distributed generation, tightening environmental regulations, and accelerating buildout of infrastructure for natural gas and for vehicles powered by natural gas.

A byproduct of anaerobic digestion (AD), a process in which microorganisms break down organic matter in an oxygen-starved environment, biogas is gaining traction as a versatile energy carrier with significant potential to meet growing demand within the power, heat, fuel, and chemical markets.
According to a new report from Pike Research, this fast-growing market reached $17.3 billion in global revenue in 2011 and will nearly double by 2022, hitting $33.1 billion in that year.
"With the relatively mature German biogas market nearing saturation, many design-build firms and project developers are seeking to export their expertise abroad to tap opportunities across Europe, the Americas, and Asia Pacific," says senior analyst Mackinnon Lawrence.
"Increasing demand among farmers, municipalities, and industrial processors for waste treatment technologies, on the one hand, and widening opportunities for renewable natural gas in transportation and cogeneration applications on the other, signal steady growth for the biogas industry over the next decade."
Global installed production capacity is now more than 800 billion cubic feet per year, representing nearly 14.5 gigawatts (GW) of installed distributed and grid-scale renewable generation capacity.
With at least 11 billion cubic feet per year of production capacity expected to come online worldwide by the end of 2012, renewable natural gas (RNG) is a growing segment within the diverse biogas landscape. While opportunities abound for high-Btu RNG in gas-to-grid injection and vehicle fuel applications, low fossil natural gas prices are expected to restrict market growth in the absence of strong policy incentives.
Market Assessment
As a waste management tool, biogas capture is a proven strategy for reducing methane emissions, a greenhouse gas 20 times more potent than carbon dioxide (CO2).
By treating a variety of waste streams, biogas production and utilization can reduce the environmental and socioeconomic impact of decomposing organic matter while producing a range of valuable co-products. A number of countries are ramping up biogas targets as a strategy for addressing these diverse challenges while also meeting growing demand for renewable energy.
While the capture of biogas at landfills is relatively common in advanced economies, distributed bio-digesters are still gaining traction in a wide range of commercial applications, including concentrated animal feeding operations (CAFOs), industrial food processing facilities, and biofuels production facilities.
Pike Research's report, "Renewable Biogas", analyzes the global market opportunity for biogas capture across four key industrial segments: municipal solid waste (MSW), agriculture, industrial, and sewage treatment.
The report provides a comprehensive assessment of the demand drivers, business models, policy factors, and technology issues associated with the rapidly-developing market for biogas production and utilization.
Key industry players are profiled in depth and worldwide revenue and capacity forecasts for raw biogas and RNG production, segmented by region and industrial segment, extend through 2022.
An Executive Summary of the report is available for free download on the firm's website.
Featured Product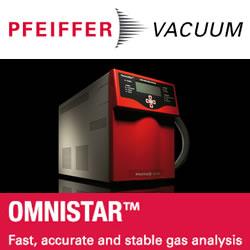 The Pfeiffer Vacuum OmniStar benchtop analysis system offers you a compact footprint, powerful software and Ethernet connectivity. It's the optimum solution for many real-time gas analysis applications. With the OmniStar, Pfeiffer Vacuum offers you a complete solution for gas analysis, in chemical processes, semiconductor industry, metallurgy, fermentation, catalysis, laser technology and environmental analysis. The turnkey OmniStar gas analysis system consists of heated, temperature-regulated gas inlet system, Quadrupole mass spectrometer, a dry diaphragm vacuum pump and HiPace turbopump. Unlike competing methods such as FTIR, OmniStar is suitable for qualitative and quantitative analysis of most gases.