When China published its ĎAdministrative Measure on the Control of Pollution Caused by Electronic Information Products (EIPs)' in March 2007, it identified the labeling requirements and defined a list of restricted substances for electronics.
Acknowledging Electronic Information Products (EIPs)' global supply chain complexities and the necessity of hazardous substance management, on May 18, 2010 the Chinese Certification and Accreditation Administration (CNCA) and Ministry of Industry and Information Technology (MIIT) issued an Implementation Opinion setting out a uniform government promotion of voluntary certification of EIP pollution control, intending to encourage hazardous substances management that spans the entire EIP supply chain. The catalog for the first batch of certifications published by CNCA & MIIT on August 26, 2011 specifies many types of finished electronics products and includes computers, monitors, printers, televisions, mobile terminals, fixed telephone terminals, and all spare parts, components and materials for these products. On the same day the CNCA published new implementation rules for Voluntary CN RoHS Certification (CNCA-RoHS-0101: 2011).

More recently, the initial list of certification bodies was announced on May 28, 2012 and a draft of the Administrative Measures on Controlling Pollution of EIP (http://www.sirris.be/uploadedFiles/SIRRIS/Subsites/ROHS/ExFo-ElektroG_4-6d_ChinaRoHSWSGR110405%281%29.pdf) was published in June 4, 2012. This further refines how the conformity assessment activities will be applied by enterprises voluntarily, but promoted and administrated by the government uniformly, to certify electronics comply with the technical specifications and satisfy pollution control standards.
The voluntary certification enables enterprises to enhance the control and management of hazardous substances, level the competitive environment and simplify downstream certifications for exporters internationally. China is taking a radical new approach for managing hazardous substances with its Voluntary CN RoHS Certification that differs markedly from EU RoHS regulations.
About SGS E&E RoHS Services
SGS have an excellent track record in cooperation with certification bodies and can provide services especially designed to help clients meet the new Chinese RoHS as well as the European RoHS requirements. With its one-stop testing and certification service, SGS surely guides its clients through the complex regulatory landscapes for EU and Chinese markets.
SGS RoHS services (http://www.sgs.com/en/Consumer-Goods-Retail/Electrical-and-Electronics/Audio-Video-and-Household-Appliances/RoHS.aspx) can provide an EU RoHS testing report, CN RoHS testing report and Voluntary CN RoHS Certificate for the same product simultaneously, with a flexible, fast, efficient and professional one-stop service.
Please do not hesitate to contact SGS for further information.
Contact details:
SGS Consumer Testing Services
Ryan Xie
Technical Supervisor, Restricted Substances Testing Services (RSTS)
SGS Bldg, No. 4 Jianghao Industrial Park, No. 430 Jihua Road,
Bantian, Longgang District, Shenzhen,
Postal code: 518129, China
t: +86 755 25328888 ext 8049
Email: cts.media@sgs.com
Website: http://www.sgs.com/pages/consumer-testing/sgs-consumer-goods-and-retail.aspx
SGS is the world's leading inspection, verification, testing and certification company. SGS is recognized as the global benchmark for quality and integrity. With 70,000 employees, SGS operates a network of over 1,350 offices and laboratories around the world.
Featured Product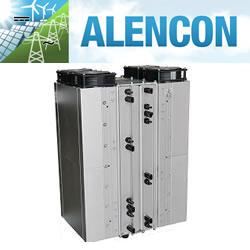 Alencon Systems is the premier manufacturer of high power, high voltage DC:DC optimizers for alternative energy applications including solar, battery energy storage, Microgrids, Fuel Cells and Electric Vehicle charging. Alencon's DC:DC converter offerings include the SPOT, BOSS and CUBE series DC:DC converters. The SPOT is a modular, uni-directional DC:DC solution ideal for solar applications. The BOSS is a modular, bi-directional unit for use with battery energy storage. The CUBE is a monolithic DC:DC converter which is available in both uni-directional and bi-directional modalities. Pictured above, is the Alencon SPOT.