SUNGREEN SYSTEMS DONATES SOLAR ENERGY SOLUTIONS TO SAN GABRIEL VALLEY HABITAT FOR HUMANITY TOWNHOMES
On Saturday, July 16th, SunGreen Systems Co-Founders Rick Hsu and Benny Tse presented the keys of a new solar powered home to the Mamikonyan Tumanyan family; one of five homes built by the San Gabriel Valley Habitat for Humanity on Geneva St. in Glendale.

The dedication ceremony celebrated the completion of an over 2 year long development project that brought together a variety of stakeholders in the San Gabriel Valley and Glendale communities. Billed as the SGVHH's first "green community", the 3-bedroom, 1.5-bathroom units are expected to each save over $100 per month for the homeowners by generating clean electricity from a rooftop solar array.
The event featured speeches from Glendale Mayor Frank Quintero, State Senator Carol Liu, and Donald Goodman, President of the SGVHH Board of Directors, among others. Catering was provided by local businesses, and guests were welcome to enjoy walk-through tours of the newly completed homes.
"I am tremendously grateful to SunGreen Systems for their interest in and support of our first green build," said Sonja Yates, Director of SGVHH. "SunGreen's solar panels will create value and savings for the Habitat for Humanity homebuyers."
The event comes on the heels of SunGreen Systems' recently completed solar-electric system at the Glendale Department of Social Services, which is expected to produce the average annual equivalent electricity of what 45 similarly sized homes use in a year.
SunGreen Systems, Inc., (http://www.sungreensystems.com) provides solar energy solutions to residential and commercial customers. Based in Irwindale and Los Angeles, serving all of Southern California, the SunGreen Systems team consists of architects, real-estate developers and solar-energy experts.
Founded in 1990 as an independent affiliate of Habitat for Humanity International, San Gabriel Valley Habitat for Humanity (http://www.sgvhabitat.org) engages the community to volunteer time, talent, money and donated materials to build affordable housing.
Featured Product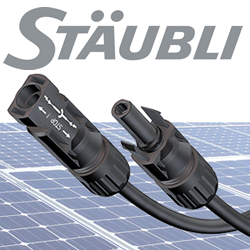 ​Stäubli Electrical Connectors are used on more than 300 GW, over 50% of the PV capacity worldwide. The MC4 family of UL and TUV listed products include connectors, in-line fuses, branch connectors, cable assembly and more.