Services Help Identify, Avoid Common Operational Failure Risks
Tempe, AZ — July 2, 2012 — At Intersolar North America, booth # 8628, TÜV Rheinland PTL, North America's largest solar and photovoltaic (PV) testing company, will present new, diverse testing and certification services to support investors and project management organizations at all stages of planning and operating large-scale PV power plants. The services are designed to help assure the quality of power plants to enhance their bankability and increase cost-efficiency.

"As the costs of PV modules and, therefore, system costs are falling, they result in lower cost per kilowatt at large-scale plants, creating an attractive market for investors," said Richard Bozicevich, Vice President of Business Development at TÜV Rheinland PTL. "To make the solar energy industry worthy of continuous investment, project planners and investors need to ensure profitable and safe long-term operation to the maximum extent possible."
TÜV Rheinland's specialists, through decades of solar experience, have identified some of the greatest operational failure risks. To maximize the project success, TÜV Rheinland supports investors and project partners with the following services:
*selecting suitable components and modules;
*testing module output performance to verify the output forecast and nameplate ratings;
*performing site evaluation;
*evaluating plausibility of the plant design;
*assisting during the proposal phase;
*ensuring quality of the installation;
*approving plant safety; and
*validating technical specifications and supervising plant construction.
The company also conducts system monitoring, combined with output verification and regular inspections of the plant during operation.
TÜV Rheinland has been using these services successfully to assist a number of large-scale power plants throughout the world. These include power plants with an output ranging from 500 kW to 100 MW in China, Germany, France, India, Italy, North America, Portugal, Spain and South Korea.
For more information, visit www.tuvptl.com or call TÜV Rheinland toll-free at 1-TUV-RHEINLAND (888-743-4652).
About TÜV Rheinland PTL, LLC
Based in Tempe, Ariz., TÜV Rheinland PTL, LLC is a leading provider of safety and performance testing and market certification, serving every sector of the photovoltaic and solar thermal marketplace, from the supply chain through installation. TÜV Rheinland PTL is a recognized OSHA NRTL for the UL standards and an American National Standards Institute Standards Developing Organization. TÜV Rheinland PTL was formed as a unique partnership between Arizona State University, an institution with more than 50 years of research on solar energy and extensive solar testing know-how, and TÜV Rheinland, a $1.9 billion global provider of independent testing, assessment, and certification services. With an international network across six continents, TÜV Rheinland maintains the largest network of Solar Energy Laboratories worldwide, with five major laboratories on three continents. For more information, visit www.tuvptl.com.
About TÜV Rheinland
Founded in 1872, TÜV Rheinland is a global leader in independent testing, inspection, and certification services, ensuring quality and safety for people, the environment and technology in nearly all aspects of life. The company maintains a presence in 500 locations spanning 61 countries, employs 16,000 people and has an annual revenue of $1.9 billion (€1.4 billion). TÜV Rheinland inspects technical equipment, products and services, oversees projects and helps to shape processes for a wide variety of companies through its worldwide network of approved labs, testing facilities and education centers. Since 2006, the company has been a member of the United Nations Global Compact to promote sustainability and combat corruption. For more information, visit www.tuv.com/us.
Featured Product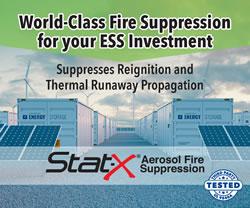 Stat-X® condensed aerosol fire suppression is a solution for energy storage systems (ESS) and battery energy storage systems (BESS) applications. Our Stat-X condensed aerosol fire extinguishing product was tested for efficacy in suppressing li-ion battery fires. It was found that the product successfully extinguished single and double cell battery fires. This testing was conducted in parallel with a large battery fire testing program on behalf of a large energy storage company.