PV Insider have released details of their free concentrated photovoltaic webinar, discussing the topic 'CPV's next steps: fight the PV price war and seize new opportunities'.
2012 has so far seen some of the most exciting CPV project announcements in the technology's history, with companies expanding into new, high DNI markets, such as Mexico, Latin America and South Africa. The United States has also seen the pipeline develop – and as was reported in May, the landmark 30MW Alamosa project was put into service in Colorado.

However, with the recent wave of industry consolidation, combined with rock bottom PV pricing, CPV is still battling to break into the mainstream energy mix and compete in a market dominated by cost.
To address these themes in detail, PV Insider have announced a webinar entitled 'CPV's next steps: fight the PV price war and seize new opportunities'. The 60 minute webinar will take place Wednesday 18th July at 9.00am Pacific / 12.00pm Eastern / 5.00pm UK.
During the webinar Jane Melia (SolFocus), Pedro Banda (Abengoa Solar) and Paula Mints (Navigant Consulting) will discuss where PV pricing is progressing, how CPV can prosper in a low incentive environment, and which opportunities are open to the CPV industry in 2012 and beyond.
The webinar can be joined for free at https://www3.gotomeeting.com/register/769161550 but you must register before Tuesday 17th July.
For more information, contact Matt Carr at matt@pv-insider.com
Featured Product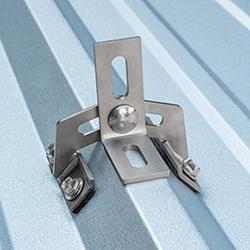 Error-Proof Compression: The QB2 doesn't leave any room for user error when it comes to Microflashing® compression. Once the Dual Drive Shoulder Screw is secured, the Microflashing® is compressed. Only 3 Components: The QB2 is comprised of Microflashing®, an L-foot and a Dual Drive Shoulder Screw. No more Nuts needed to tighten and secure the L-foot! Not only does this simplify the installation process, it also cuts down the installation time.