PV Insider reveals the importance of Balance of Systems (BoS) for lowering LCOE and maximizing performance in 2012
In 2011 the solar PV industry in the United States installed 1.86GW of photovoltaic systems and is expected to install a full gigawatt more in 2012, totalling a massive 2.8GW. Simultaneously, prices have also continued to decline since 2009. Average module prices have fallen nearly 75% over the past 3 years. In addition to this, as more and more utility scale projects come online the experience in constructing these plants has also led to a decline in overall system costs.

The recent Renewable Auction Market (RAM) saw 20 year power purchase contracts awarded in California at $0.089/kWh, a clear sign that this overall fall in system costs has now lead to projects bidding under the average residential energy price in the United States.
However, despite this growth in the PV project pipeline on both the East and West coast, experts in the industry are beginning to question if developers are able to fulfil their PPA contracts at this price to truly bring grid parity to the US. As module prices stabilize in 2012 many have pointed to Balance of System (BoS) components and services as the largest opportunity for developers to cut costs in PV.
BoS encompasses all components of a photovoltaic system other than the module. Consequently, developers are looking to suppliers of inverters, trackers, mounting structures and wiring to help them continue to cut costs in the short term, whilst maintaining performance. In addition to this the on-going operations and maintenance cost of a system is another area that developers are addressing in order to guarantee their long-term competiveness as plant's come online.
BoS revenues are projected to increase from $17 billion in 2011 to almost $24 billion in 2016. With recent figures announcing that BoS now accounts for over 52% of the total cost of a typical utility scale project this must become the primary focal point for plants under development.
As BoS captures an increased share of the PV market, optimizing plant design, component selection and on-going O&M is crucial for utility scale projects. To help developers and EPC groups overcome their challenges in optimizing performance and reducing costs, PV Insider has announced this week the launch of the 3rd Utility Scale PV Plant Optimization Summit USA (17-18 October, San Jose). It was confirmed today that leading technical experts from First Solar, SunPower, enXco, Solar Reserve, NRG Energy, Juwi Solar, Belectric, Black & Veatch, Gestamp Solar and Cupertino Electric are all set to share their expertise on how to improve utility scale plant performance.
In addition leading US utilities including SMUD, Tucson Energy Power, Colorado Springs Utilities, Salt River Project, IID and San Francisco Water, Power, Sewer will attend to discuss how plant owners can stabilize output and reduce transmission costs for utility scale projects.
The event is set to take place on 17-18 October in San Jose, CA, with over 250 delegates in attendance. For more details about the event go to the website:
www.pv-insider.com/optimizationusa
Or contact:
Jack Ahearne
PV Insider
jack@pv-insider.com
Featured Product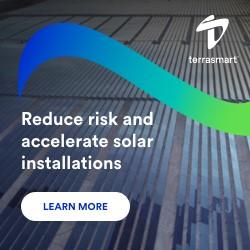 We push the limits in renewable energy, focusing on innovation to drive progress. Pioneering new solutions and ground-breaking technology, and smarter ways of working to make progress for our clients and the industry.