Experts speaking at the PV Manufacturing Summit India (1-2 August, Delhi) will debate the progress and development of each photovoltaic niche as Indian manufacturers prepare to scale up.
Of the three technologies, Crystalline Silicon (C-Si) is undoubtedly the most established. In line with Government policy Indian project developers wanting to use C-Si modules must buy from local suppliers. Although embryonic in nature, the manufacturing industry for C-Si has been developing slowly.

Conversely, recent research has shown that thin film has been selected for 55% of Indian projects. However, a local manufacturing base for the technology has not yet been established and manufacturers have struggled to compete on price. CPV is still in its infancy and has not yet been proven in India, despite its obvious promise.
With all of these critical topics to be answered, experts from First Solar, SCHOTT Solar, Solar Semiconductor, HHV Solar, Chroma Energy and Moser Baer will be meeting at the PV Manufacturing Summit India (1-2 August, Delhi).
With the conference a month away, attendees will discuss the prospects for each technology, and answer if a manufacturing hub can emerge for any or all of the three PV technology strands.
For more information please go to the website: www.pv-insider.com/manufacturing-india
Featured Product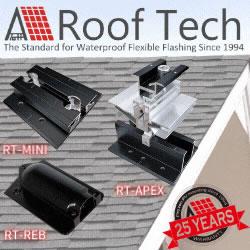 These ongoing webinars cover Roof Tech's background, product design (RT MINI and APEX), code and best practices. You will learn about a proven system that reduces installation time while keeping the integrity of the roofing system. This training will earn you one NABCEP Continuing Education Credit. The webinars are offered every Tuesday from 11 AM PDT to Noon during the months of April and May, 2020.