The Spellman Report is a financial blog, presenting current issues associated with the world of economy, macro finances, market trends and public policy, aiming at delivering a fresh view and an in-depth perspective of today's current situation and climate, in an easy to understand and follow conten
The Spellman Report came from a vested belief that the intersection of economic and financial analysis with macro finances, global markets and recent economic news is sight worth exploring, debating and commenting upon, especially taking into consideration that we live in a highly globalized world, which has a great impact on the economy and on our lives. The blog offers readers greatly appealing and engaging posts and articles, explaining how financial globalization turned into a major factor in the US financial prospects and the country's economy, how the whole Europe situation has reached a level of risk to the financial system of the United States and what are the financial multipliers of this climate. While NAFTA clearly stated that globalism is related to trade and not finance, today's landscape tells us differently and The Spellman Report distinctly explains the current situation and how Euro banks enjoy a high leverage, selling their assets, turning governments into insolvent entities and finally leading to a financial and government crisis. About all of this and many other appealing subject, you can read on thespellmanreport.com. Everything from financial market trends, sovereign debt issues and public policy to economic research report, global economies and issues associated with bank runs and debt overload are to be found on the website, thoroughly analyzed, debated and explained by Professor Spellman.

The Spellman Report acknowledge the significant need for people to be kept up to date with what is going on in their country and in the world, because these are the times when financial and recent economic news bear a great weight, when people need to understand what stands at the basis of the major decisions that are being taken and that have a clear impact on their lives, from the price of goods, such as gas, food or coffee, to the cost of education or health care, bank interests and mortgage loans, as well as retirement funds and salary platforms, not to mention job perspectives. To that extent, being able to understand economic and financial analysis, the effect of a major change in the financial system or in the country's economy has become essential for virtually every individual, not just for people working in the field or conducting business on the stock market and looking for investment opportunities, thus carefully studying financial market trends and stock movements. The great thing about The Spellman Report is that it combines all that, catering to a large audience and becoming a "must read" for everyone with a sheer interest in the world of finances and economy.
The Spellman Report goes beyond the limits of a financial blog or economic research report, offering its readers precise and insightful financial and economic analysis, competent reflections and fresh views on the investment opportunities in today's climate, as well as engaging interviews and sit downs with great figures in the field, such as Warren Buffet, Dave Rosenberg and Rich Yamarone.
Please visit
http://thespellmanreport.com/
Featured Product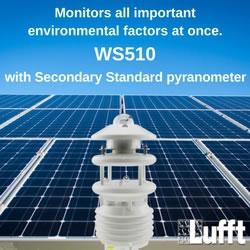 Professional weather sensors form the heart of large solar plants supporting their operation and performance. Lufft was the first manufacturer to combine several sensors in one housing, bringing the largest multiparameter weather sensor family with 19 members into being. Many of them are well-suited for solar site assessment and continuous monitoring. The most commonly used one is the WS600 delivering data on temperature, air pressure, wind, relative humidity and precipitation. Through its open protocol, it can easily be attached to radiation sensors e.g. from Kipp&Zonen. Other models have an integrated Silicon, Second Class or Secondary Standard radiation sensor.