Hanwha seeks sustainable and long term solution to desertification
NINGXIA, China--Hanwha Group, Korea's top-10 business group, today completed the donation of a solar photovoltaic (PV) plant dedicated to assist rehabilitating land degradation, combating desertification and mitigating drought effects in the Baijitan National Nature Reserve of Lingwu City, Ningxia, China. The installation was completed with support of the United Nations Convention to Combat Desertification (UNCCD) and the State Forestry Administration and Forestry Department of Ningxia Hui autonomous Region. This project marks the first time the UNCCD's has worked in cooperation with a private company to combat desertification.

Located near the Southwest edge of the Mu Us Desert, Lingwu City has a fragile, arid ecosystem which faces severe land degradation and desertification. The problem has intensified under the pressure of unsustainable development in past decades. With the partnership and support of the UNCCD, the Hanwha Group donated and installed an 80kWh solar PV generation facility, manufactured by Hanwha SolarOne, Co. Ltd., and provided technical training needed to manage and operate the facility. The solar plant will power a 3,200-square-meter greenhouse in the Baijitan Nature Reserve. Hanwha's cooperation with Ningxia and the UNCCD is a unique public-private partnership which offers a framework for sustainable and long-term solutions to fighting desertification.
"Hanwha Group has long been committed to creating a brighter future, and it is our honor and mission to provide substantive support to combating desertification through clean, sustainable solar energy, in partnership with the UNCCD," said Mr. Ki-Joon Hong, CEO of Hanwha SolarOne. "Sustainable land management and development is one of our highest priorities as a responsible corporate citizen. We will devote ourselves to the undertaking of environmental protection through low carbon solutions, and will play an increasingly active role in raising awareness about sustainable land management and development of arid, semi-arid and dry sub-humid areas, which is one of our greatest missions as a civil society organization."
"The project that Hanwha Group and Hanwha SolarOne have granted to the Baijitan Nature Reserve will benefit the local people, help the local community and improve the local environment," said Mr. Youlin Yang, coordinator of Regional Coordination Unit for Asia Pacific Region of UNCCD. "It is also a successful pilot of a public-private partnership program that other affected countries and regions can learn from and follow in-kind."
About Hanwha Group
Founded in 1952, Hanwha Group is a leading Korean business group with 53 domestic affiliates and 78 global networks in three major sectors of manufacturing/construction, finance and service/leisure. In 2011, Hanwha Group held assets of $87.7 billion and total revenue of $31.6 billion. Putting strategic emphasis on renewable energies and global expansion, Hanwha Group has made successful advancements in solar energy, rechargeable batteries and biosimilars. Hanwha Group has also extended its global footprint in Europe, China, Southeast Asia, the Middle East and the United States. For more information, please visit www.hanwha.com.
About Hanwha SolarOne
Hanwha SolarOne Co., Ltd. (NASDAQ:HSOL) is one of the top 10 photovoltaic manufacturers in the world, providing cost-competitive, high quality PV modules. It is the flagship company of Hanwha Solar, the solar business network of Fortune 500 ranked Hanwha Group. Hanwha SolarOne serves the utility, commercial, government and residential markets for a growing network of third-party distributors, OEM manufacturers and system integrators. The company maintains a strong presence worldwide, with employees located throughout Europe, North America and Asia, and embraces environmental responsibility and sustainability, with an active role in the voluntary photovoltaic recycling program. For more information, please visit: http://www.hanwha-solarone.com.
Featured Product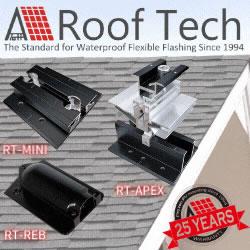 Now Roof Tech brings you the most innovative, watertight mounting systems ever developed for solar photovoltaic systems. Designed and manufactured exclusively for us by Japan's longtime leader in roofing technologies, Roof Tech products are 100% code-compliant and offer fast, simple installation and huge savings on shipping costs due to their compact, rail-less design. Learn more about our full line of versatile PV mounting solutions now available for residential installations. The next generation in rooftop solar mounting solutions."