Signature MAGE POWERTEC PLUS module now available as AC-version with 30 year warranty on microinverter and 30 year power guarantee on module; Plug-and-play technology guarantees lowest field-installation cost
Dublin (Georgia), July 05, 2012. – MAGE SOLAR, part of the globally operating MAGE GROUP, announced today that it is introducing the first AC-module on the market backed with a 30-year assurance for module and microinverter.

The top-performing, premium quality MAGE POWERTEC PLUS PV-Modules are leading the industry with their positive 5 watt tolerance, 10-year product warranty, and 12-year 90% power guarantee, and the company's distinctive 30-year 80% power guarantee. Now MAGE SOLAR is extending the same exceptional features to the newest member of its powerful product family, the MAGE POWERTEC PLUS AC-Module which will make its first appearance at Intersolar in San Francisco this month.
MAGE SOLAR's complete AC-PV solution provides an extremely secure and time-saving option compared to other stand-alone microinverter systems. As the DC-to-AC microinverter is integrated into the module frame, the need for one central inverter or multiple string inverters is eliminated: the pre-installed, fully insulated AC-cable can simply be plugged into the AC-cable connector of the adjacent MAGE POWERTEC PLUS module, making this one of the easiest to install modules in the rapidly growing PV-market.
The microinverter technology is provided through a partnership with SolarBridge Technologies, the Texas-based leader in innovative module-integrated inverter design. SolarBridge Pantheon II microinverters preassembled in the new MAGE SOLAR AC-module feature an unrivaled 30 year warranty to match the module's industry-leading 30 year 80% power guarantee.
"MAGE SOLAR is a global leader in modules known for their reliability and innovation," said Ron Van Dell, President/CEO of SolarBridge Technologies. "SolarBridge microinverters are designed for reliability and this partnership demonstrates our shared commitment to the long life of our products."
The first MAGE SOLAR AC-modules are being shipped towards the middle of this quarter to customers throughout the Americas. The significantly reduced installation time and increased install-security of the MAGE POWERTEC PLUS AC-Module is an attractive option for many of the world's fastest growing PV-markets like the US, Mexico, and Brazil.
"SolarBridge has been an ideal partner for our AC-module," says Joe Thomas, CEO and President of MAGE SOLAR USA. "The extreme reliability and top performance of SolarBridge microinverters is a perfect match for our modules. We are very proud to be able to offer such a game-changing technology on this exceptionally high level of quality."
The trend-setting MAGE POWERTEC PLUS AC-Module will debut as part of MAGE SOLAR's impressive product and service portfolio at Intersolar in San Francisco from July 10-12. Visitors at the MAGE SOLAR Booth #7623 are invited to take a firsthand look at other featured products, such as the new MAGE POWERTEC PLUS high-wattage modules and its black versions for aesthetically appealing design applications, as well as MAGE SOLAR's mounting solutions, plus the company's finance and training opportunities.
MAGE SOLAR – The Sun on Your Side
MAGE SOLAR USA, headquartered in Dublin, Georgia, specializes in complete solar systems and provides high-quality photovoltaic modules, intelligent mounting systems and high-performance brand inverters. As a subsidiary of the international MAGE GROUP, it uses the Group's 40 years of know-how to develop optimally coordinated system solutions. A competent partner network guarantees profitable solar energy systems for customers throughout the Americas and in 21 more countries in Europe, Asia, Africa, and Australia. In 2011, the company generated U$280 in sales with around 180 employees.
www.magesolar.com
About SolarBridge Technologies
SolarBridge Technologies, the leader in integrated microinverter technologies for the solar industry, is accelerating the adoption of rooftop solar energy in residential and commercial applications. SolarBridge's patented Pantheon microinverter mounts directly onto solar panels, greatly increasing system efficiency and reliability, while reducing the cost of solar installation and maintenance. SolarBridge microinverters are designed to match the lifetime of solar panels, enabling manufacturers to provide the maximum warranty on their AC modules. The company is headquartered in Austin, Texas. For more information, visit www.solarbridgetech.com.
Featured Product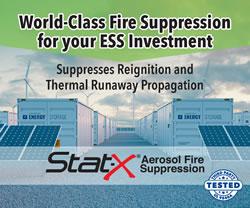 Stat-X® condensed aerosol fire suppression is a solution for energy storage systems (ESS) and battery energy storage systems (BESS) applications. Our Stat-X condensed aerosol fire extinguishing product was tested for efficacy in suppressing li-ion battery fires. It was found that the product successfully extinguished single and double cell battery fires. This testing was conducted in parallel with a large battery fire testing program on behalf of a large energy storage company.