"Traditional, centralised energy sector is experiencing a seismic shift"
Some 6500 utility professionals will gather in Amsterdam in October for the annual Metering, Billing/CRM Europe at what has become the largest industry conference and exhibition on the continent. "The traditional, centralised energy sector is experiencing a seismic shift in the way electricity is produced, managed and consumed," says Metering Europe director Aida Mezit, "and increasing demand, security of supply and the growing concerns over climate change are pushing for developments of smart grid and energy efficiency behaviour."

Metering Europe's Mezit says to address these challenges an overhaul of electricity systems on an unprecedented scale is needed. She continues: "this overhaul must be accompanied by novel commercial and economic models, leaving behind structures and practices that have guided us for the past 100 years. In the midst of such changes, hosting an event that unties the whole energy community - European in nature but crossing the regional boundaries from Australia to Brazil - comes at no better time to challenge our preconceived views and inspire innovation and entrepreneurship."
Key themes
Metering Europe will feature a conference programme of more than 200 expert speakers, open debates and specialised workshops addressing key themes such as:
- Smart metering rollout and forays into smart grid
- Consumer engagement programmes and evolving dynamics between energy consumer and provider
- Development of intelligent networks & power infrastructure across Europe
- Congestion and interconnection challenges, and the creation of a single electricity market
- New commercial models and regulatory mechanisms underpinning electricity system overhaul
The exhibition, the largest in the industry on the continent, will gather more than 320 solution providers under one roof, with the latest utility technology on display.
Important platform for collaboration and partnerships
Now in its 14th year, Metering Europe has provided an important platform for collaboration, dialogue and new partnerships between all key parties in the European electricity sector says the event's director. She continues: "its main 2012 aim is to expand on its previous successes and deepen our understanding of what our energy future will look like: how technology, policy and markets will determine its huge potential, and why working from the ground up - via establishing the right policy, trialing technologies and opening markets to new entrants and business models - is the key to delivering a smart energy economy."
Speaker highlights at Metering, Billing/CRM Europe:
 António Aires Messias, Advisor of the Executive Board Directors, EDP Distribuição, Portugal
 Johan Soderbaum, Head of Department, Distribution and Sales R&D, Vattenfall, Sweden
 Toru Hattori, Senior Research Economist, Central Research Institute of Electric Power Industry, Japan
 Dave Openshaw, Head of Future Networks, UK Power Networks, UK
 Jean Duplex, Head of Data Flow Reconstitution Department, ERDF, France
 Laney Brown, AMI Programme Director – Central Maine Power, Iberdrola, USA
 Gunnar Lorenz, Head of Unit, Networks, EURELECTRIC
 Per-Olof Granstrom, Secretary General, EDSO for Smart Grids
 Senna McGrath, Chief Technology ESB eCars, ESB, Ireland
 Fabio Toledo, Chief Technology Officer, Light SESA, Brazil
 Frans Campfens, Senior Innovation Manager, Alliander, The Netherlands
 Hans-Joachim Dorn, Senior Manager, EnBW Operations, Germany
 Olivier Huet, Head of Strategy, ERDF, France
Co-located events to Metering, Billing/CRM Europe in Amsterdam from 9-11 October are Transmission & Distribution Europe as well as Smart Homes 2012.
Event dates and location:
9-11 October 2012
Amsterdam RAI, The Netherlands
Event website: www.metering-europe.com
For more information or media accreditation:
Communications manager: Annemarie Roodbol
Telephone : ++27 21 700 3558
Mobile : ++27 82 562 7844
Email : annemarie.roodbol@clarionevents.com
Featured Product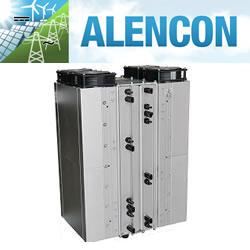 Alencon Systems is the premier manufacturer of high power, high voltage DC:DC optimizers for alternative energy applications including solar, battery energy storage, Microgrids, Fuel Cells and Electric Vehicle charging. Alencon's DC:DC converter offerings include the SPOT, BOSS and CUBE series DC:DC converters. The SPOT is a modular, uni-directional DC:DC solution ideal for solar applications. The BOSS is a modular, bi-directional unit for use with battery energy storage. The CUBE is a monolithic DC:DC converter which is available in both uni-directional and bi-directional modalities. Pictured above, is the Alencon SPOT.