Filtration, Purification Products Increase Yield and Lower Cost in Solar Cell Manufacturing
PORT WASHINGTON, N.Y.--Pall Corporation (NYSE: PLL) will showcase a new argon gas purification system and other filtration and contamination control products for the photovoltaic (PV) industry at Intersolar North America in San Francisco, July 10 -12. The exhibition is a leading forum for energy companies and equipment suppliers to explore technologies and methods to propagate solar as a significant, viable energy source. Pall's featured products, including a water reclaim system, are designed to help increase yield, reduce cost of ownership, and decrease water usage in solar cell manufacturing.

Purification of the process gases utilized in solar cell production is critical to enhancing yields and conversion efficiency. At the show, Pall will introduce the Gaskleen® PG44000 purification system, developed for the removal of moisture, oxygen and hydrocarbons to sub-parts-per-billion (ppb) levels from bulk argon gas. An integrated filter provides exceptional particle removal efficiency. The system can operate at 1.7 MPa / 250 psi and can be designed for up to 4,000 L/min, making it ideal for argon recycling. Smaller, point-of-use, argon purifier assemblies containing the same AresKleenTM INP medium are also available for Czochralski (CZ) puller applications.
Among the other products on display will be Gaskleen purifier assemblies with AresKleen HCLP medium, which has proven highly effective in removing trace moisture to < 15 ppb from HCl gas. The gas is used in the formation of trichlorosilane, a key ingredient in the production of polysilicon, which is used to make most solar cells as well as semiconductor wafers.
Pall will also present its fully automatic Water Reclaim System for recovering over 90 percent of deionized water used during silicon ingot shaping. The system efficiently and economically removes the resultant silicon fines without the need for chemical additives, providing essentially particle-free water for cost-effective recycling. A major supplier of shaping and grinding tools for the solar industry highly recommends this reclaim system.
Another exhibit will highlight Blowback Filtration Systems for the protection of CZ ingot puller vacuum pumps. Furthermore, these automated systems featuring highly efficient, porous stainless steel filters are essential where argon recycling is being considered.
A display of innovative filters and uniquely designed housings for chemical and water filtration will round out Pall's showcase at Intersolar. The systems and products provide long-term service without the interruption of frequent change-outs, increasing uptime and reducing maintenance costs for solar cell producers.
For more information, visit: http://www.pall.com/main/Microelectronics/Photovoltaics-54139.page or www.pall.com/pdf/PV_Brochure_MEPVCAPENb-5.pdf. Visit the Pall booth at Intersolar North America: #5578 in the North Hall at the Moscone Center in San Francisco, July 10 – 12, 2012.
Pall Microelectronics supports the solar energy, semiconductor, data storage, fiber optic, display, and materials markets with a comprehensive suite of contamination control solutions for chemical, gas, water, chemical mechanical polishing (CMP) and photolithography processes.
About Pall Corporation
Pall Corporation (NYSE: PLL) is a filtration, separation and purification leader providing solutions to meet the critical fluid management needs of customers across the broad spectrum of life sciences and industry. Pall works with customers to advance health, safety and environmentally responsible technologies. The company's engineered products enable process and product innovation and minimize emissions and waste. Pall Corporation, with total revenues of $2.7 billion for fiscal year 2011, is an S&P 500 company with almost 11,000 employees serving customers worldwide. Pall has been named a "top green company" by Newsweek magazine. To see how Pall is helping enable a greener, safer, more sustainable future, follow us on Twitter @PallCorporation or visit www.pall.com/green.
Featured Product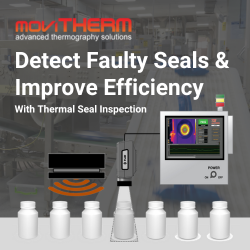 MoviTHERM's Thermal Seal Inspection (TSI) solution provides precise and reliable detection of defects in a variety of packaging types, including pouches, bags, blister packs, bottle caps, and more. By detecting defects in your packages, the TSI solution helps increase efficiency in your production line and ensures top-quality packaging is delivered to your customers every time. With state-of-the-art technology and an experienced team, MoviTHERM is dedicated to delivering accurate inspection solutions and peace of mind to its clients. Contact MoviTHERM today to learn more about their thermal seal inspection solution.