Rehm Thermal Systems will showcase its newest vacuum soldering technology at this month's Semi Con West and Intersolar exhibitions in San Francisco. Members of Rehm's technical team will be on hand at the booth of American business partner Technica USA (#5757) to explain the numerous advantages available from this enabling technology
Rehm offers void free vacuum soldering solutions for a variety of applications covering a temperature range from 50°C to 450°C which including advanced condensation reflow for lower temperatures up to their latest high temperature VS offerings. On display in booth 5757 at Intersolar will be the VS 160S vacuum soldering system which features void free vacuum soldering at temperatures up to 450C with the use of controlled gasses. Oxidation free and void free interconnections between chip and substrate in packaging applications are just two of the many advantages that the process delivers.

Rehm's VS systems are particularly significant for (CPV) photo voltaic concentrator module assembly processes which require high temperatures and where high power interconnections need to be void free. PV concentrator technology replaces the majority of the semiconductor content of traditional modules with less expensive optics, and thereby reduces costs while promising to boost cell efficiency to far over 25%.
The small, powerful and affordable Rehm VS vacuum soldering systems enable improvements in numerous other high temperature soldering, including formic acid, Microwave Plasma, and 100% hydrogen processes.
VS soldering technology is just one part of a large group of Rehm products that contribute every day to the advancement of photo voltaic manufacturing technology. For instance, RFS and RFS-D Fast Firing Systems offer a range of advanced process features and thermal control that enable PV manufacturers to move their processes to entirely new levels of efficiency and yield. A holistic approach to energy efficiency has resulted in new benchmarks for reduced power consumption and ambient atmosphere influence. Rehm's RFS Fast Firing system measures in at a typical 17KWh, and the RDS Drying system a meager 7KWh. In addition, external cover temperatures are maintained at <35 degrees C .
Rehm's firing furnace boasts a wide process window, better performance, lowest cost of owner ship, and proven high throughput. These benefits are important for PV manufacturers that are looking to advance their productivity and cell efficiency more than ever before.
Featured Product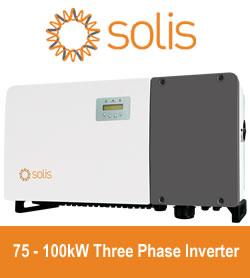 Solis75kW - 100kW series high-power string inverters are widely used in industrial and commercial rooftops. Solis's new three-phase string inverter is the first choice for industrial and commercial photovoltaics. 75-100kW three phase series string inverter have Maximum 28 strings input, support "Y" type connection in DC side. Maximum string input current 13A, support bifacial modules access.Supports anti-PID function to improve system efficiency.