Facing Skepticism and Fierce Competition, Solar Companies Are Boosting Their Bottom Lines Through Financial Performance Analysis and Customized System Monitoring
Boulder, Colo. – July 5, 2012 – AlsoEnergy, a leader in renewable energy monitoring and portfolio management software, announced today's solar developers, investors and managers are requiring automation to provide analytical insight and maximize performance and profitability.

AlsoEnergy provides comprehensive, customizable cloud-based software solutions to help companies manage the business of owning and operating solar investments. PowerTrack™ Energy Management Services software allows developers and investors in solar energy systems to create performance models and compare operation between sites and models to quickly detect under-performing components and generate better system returns.
"Investors in today's solar market are no longer dominated by early adopters," said Robert Schaefer, founder and CEO of AlsoEnergy. "Now, economic factors drive planning and purchasing decisions in the growing global solar marketplace."
With the insights that are collected through PowerTrack, users of AlsoEnergy's software can analyze system performance over its life cycle. Additionally, the data gathered can be used to create a custom kiosk display - PowerLobby™. PowerLobby displays engaging charts and graphics, such as sun position, number of kWh saved, information about the end-user's sustainability goals or other customer-oriented messaging.
Key components of the latest version of PowerTrack and PowerLobby will be on display at AlsoEnergy's booth, #8523, at Intersolar North America in San Francisco, July 10-12. Performance demonstrations will include:
• Panel to Portfolio management
• Comprehensive real-time monitoring with five second samples
• Curtailment monitoring
• Customized hardware integration
• Overall investment management
• Educational components to connect your investment to the community
AlsoEnergy monitors more than 750MW at 1500 solar power sites in 15 countries around the world including the United States, Canada, Korea, India, Italy, Germany, Mexico, Slovakia, France, UAE, Australia, Spain and Greece. For more information about PowerTrack Energy Management Services, visit http://alsoenergy.com/psite/solutions/powertrack-energy-management-services.
About AlsoEnergy
Based in Boulder, AlsoEnergy provides the most comprehensive energy monitoring and financial management software solutions for renewable energy developers, manufacturers and investors who are establishing today's clean-tech industry standards and best practices. From residential and government to commercial and utility grade applications, AlsoEnergy's technology platform increases business results with online access to critical cost and production data. With the industry's only complete client-customized web application, AlsoEnergy's unique architecture and price point reduce risk, improve energy supply chain transparency and bring strategic vision to energy portfolio administration and the global clean-tech marketplace. For information, visit www.AlsoEnergy.com
CONTACT
Marie Rotter
Account Director, Metzger Associates
mrotter@metzger.com
720.833.5925 (o)
303.907.9826 (c)
Featured Product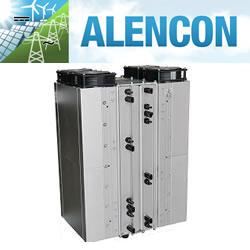 Alencon Systems is the premier manufacturer of high power, high voltage DC:DC optimizers for alternative energy applications including solar, battery energy storage, Microgrids, Fuel Cells and Electric Vehicle charging. Alencon's DC:DC converter offerings include the SPOT, BOSS and CUBE series DC:DC converters. The SPOT is a modular, uni-directional DC:DC solution ideal for solar applications. The BOSS is a modular, bi-directional unit for use with battery energy storage. The CUBE is a monolithic DC:DC converter which is available in both uni-directional and bi-directional modalities. Pictured above, is the Alencon SPOT.