Long-term agreement brings 4.4 MW of clean energy to Southern California school district
SAN FRANCISCO – July 9, 2012 – Tioga Energy, a leading provider of renewable energy services to commercial, government and non-profit organizations, today announced it has closed construction and long-term financing with Wells Fargo & Company (NYSE:WFC) and De Lage Landen (DLL) for the first tranche of projects completed as part of Tioga's 4.4 MW, multi-site solar PPA program for the Hemet Unified School District in Hemet, Calif.

The solar electric systems for Hemet are the first to be developed under a master financing agreement between Tioga Energy and DLL. A global provider of high-quality asset-based financing products to manufacturers and distributors of capital goods, DLL previously collaborated with Tioga Energy on an 856-kW installation for Oceanic Time Warner in Honolulu, Hawaii. Wells Fargo's participation in the projects as a construction lender and tax equity investor alongside DLL's tax equity investment has further broadened the scope of the Tioga-DLL financing facility.
"Tioga Energy has a history of smart project selections and exceptional execution capabilities," said Mark McGovern, General Manager, Clean Technology Group, De Lage Landen. "Our relationship with the company has proven to be a strong asset to DLL and our firm remains committed to supporting Tioga's developments over the long term."
Financed through SurePath™ Solar power purchase agreements (PPAs) from Tioga Energy, the solar electric systems for the Hemet Unified School District double as shade structures for 17 facilities within the district. The installations will save administrators an estimated $300,000 in utility costs annually.
"The Hemet projects represent the cornerstone of Tioga's growing relationship with two highly-respected financial entities," said Paul Detering, CEO of Tioga Energy. "We are committed to delivering high quality projects to our finance partners and low-cost energy to our customers as we expand access to renewable energy for customers from coast to coast."
About Tioga Energy:
Tioga Energy enables commercial, government and non-profit organizations to reduce electricity costs and enhance environmental sustainability without any capital outlay. Through its SurePath™ Solar power purchase agreement (PPA), Tioga Energy owns and operates more than 100 renewable energy systems across the U.S., providing its customers the opportunity to reduce energy costs and hedge against electricity rate volatility while lowering carbon emissions. For more information, please call 877-333-9787 or visit www.tiogaenergy.com. To access and download Tioga Energy's SurePath Solar PPA, please visit: www.tiogaenergy.com/annotated-ppa-index.php.
About De Lage Landen:
De Lage Landen, a fully owned subsidiary of Rabobank Group, specializes in asset-based financing programs for equipment manufacturers, dealers and distributors all over the world. Our programs cover our customers' total distribution chain, as well as the entire lease lifecycle. We offer customers a single source for leasing, administration, risk and asset management solutions. De Lage Landen's diversified solutions include car leasing in the European market and consumer finance and factoring in the Dutch home market.
Establishing a close and long-lasting relationship with our customers is at the heart of our company culture. This requires a genuine interest in and a thorough understanding of our customers' business needs and goals. We partner with our customers to tailor solutions and develop programs that support mutual growth and profitability. We care not only about our customers, but also about the communities in which we operate. We strive to have a positive social and environmental impact through our products and the way we conduct business. For more information, please visit our website: www.delagelanden.com.
About Wells Fargo & Company
Wells Fargo & Company (NYSE: WFC) is a nationwide, diversified, community-based financial services company with $1.3 trillion in assets. Founded in 1852 and headquartered in San Francisco, Wells Fargo provides banking, insurance, investments, mortgage, and consumer and commercial finance through more than 9,000 stores, 12,000 ATMs, the Internet (wellsfargo.com), and other distribution channels across North America and internationally. With more than 270,000 team members, Wells Fargo serves one in three households in America. Wells Fargo & Company was ranked No. 26 on Fortune's 2012 rankings of America's largest corporations. Wells Fargo's vision is to satisfy all our customers' financial needs and help them succeed financially.
Media Contact:
Kimberly Setliff
Antenna Group for Tioga Energy
415-977-1942
Kimberly@antennagroup.com
Featured Product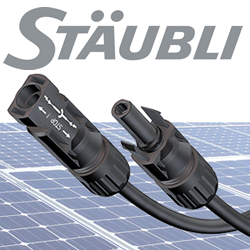 ​Stäubli Electrical Connectors are used on more than 300 GW, over 50% of the PV capacity worldwide. The MC4 family of UL and TUV listed products include connectors, in-line fuses, branch connectors, cable assembly and more.