EVG has installed a pilot line for large-area coating demonstration at its Austria headquarters.
SAN FRANCISCO, July 9, 2012 -- Intersolar North America -- EV Group (EVG), a leading supplier of coating equipment for the photovoltaics (PV), nanotechnology and semiconductor markets, and Brisbane Materials Technology (BMT), a specialty materials company, today announced they are collaborating to provide a total solution for anti-reflective (AR) coatings for the PV market. Under a strategic cooperation agreement, EVG has optimized its large-area coating systems for BMT's unique materials and processes, enabling high-yield fabrication of AR coatings with industry-leading performance and cost.

The innovative technology enables the creation of a nano-porous silicon dioxide (SiO(2)) film from a liquid precursor at room temperature and atmospheric pressure, making this technology compatible with all existing PV-module and solar glass manufacturing lines. The SiO(2) film is covalently bonded to the glass surface to give maximum durability and field reliability. The coatings have undergone rigorous testing to IEC 61215 standards, and have successfully completed a 2.5-year accelerated aging test equivalent to more than 20 years of field application.
EVG has installed a pilot line for large-area coating demonstration at its Austria headquarters. The companies will provide further details on the materials technology and manufacturing equipment in their shared booth #5687 at Intersolar North America 2012, July 10-12, in San Francisco, Calif.
The International Technology Roadmap for PV (ITRPV) specifies the introduction of AR coatings on solar cover glass beginning in 2013, and then moving into mainstream production going forward. "Our AR coatings improve the peak power output of PV modules by 3 percent, at the industry's lowest cost per square meter," said Dr. Gary H. Wiseman, founder and CEO of BMT. "Our broadband AR coatings, with their excellent angular performance, should increase the energy output of a PV module by 5 to 6 percent or more when averaged over an entire day. Combining our unique materials technology with EVG's field-proven manufacturing systems allows us to provide a complete turnkey AR coating solution to customers."
Added Dr. Thorsten Matthias, EV Group business development director, "Working with BMT will allow EVG to extend to the solar market the expertise in coating systems that we have built up over more than 15 years in the semiconductor and display industries. Together, we will be able to advance ITRPV requirements while quickly ramping to a high-volume manufacturing coating solution with greater flexibility, reliability and cost-effectiveness compared to competitive offerings."
About Brisbane Materials
Brisbane Materials Technology is a specialty materials company focusing on creating innovative materials solutions for solar and other applications. Based in Brisbane, Australia, and Silicon Valley, the company has patented technology for creating high performance, low-cost wide-area coatings of porous silica and other materials, made at room temperature and atmospheric pressure. For solar applications, the company's anti-reflective coatings provide a cost-effective power increase when applied to glass, plastic and other substrates. For more information, see www.brismat.com.
About EV Group (EVG)
EV Group (EVG) provides equipment for PV cell and module manufacturing, including anti-reflective and anti-soiling coating, light trapping by nanoimprint lithography, thin-wafer processing, wafer bonding and photolithography equipment. For more information about EVG's PV solutions, please visit the company at Intersolar North America, July 10-12, booth #5687 in San Francisco, Calif., or at www.evgroup.com.
Featured Product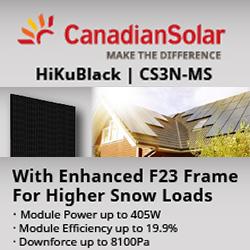 Aesthetic appearance for residential systems: With black backsheet & black frame, Power range 380 ~ 405 W, Low power loss in cell connection. Enhanced reliability: · Low temperature coefficient (Pmax): -0.34 % / °C, LID LeTID less than 2.0%, Lower hot spot temperature, Better shading tolerance.