TRA-Mage designed an Awning Solution for the Ciudad Universidad in Mexico. High winds came and the solar mounting system Eco-Infinity Mexico installed stayed intact.
High winds tore through the Ciudad Juarez University campus. In their path was the newly installed Awning Solar Mounting System from TRA-Mage. Sergio Vegas called Hector Reyes of TRA Mage after the storm settled to tell him how happy he was with the systems performance. The Awning Solution stayed secure to the building and only a few of the solar panels were damaged.

Sergio Vegas said "We performed our first work with TRA and we are very happy with the service and the product as it greatly facilitated the installation process of the panels…on Ciudad Universidad (College Campus) in Ciudad Juarez Chihuahua Mexico."
Sergio Vegas of Eco-Infinity Mexico contacted Hector Reyes regarding a project on the Ciudad Juarez University campus in the winter of 2011. They were looking at different solar mounting systems for the new building on campus. Hector introduced TRA Mage's new Awning Solution that was designed for nearly any building. It attaches the solar panels to the side of any structure in landscape orientation. This awning solution met all of the aspects they were looking for.
After many conversations regarding the technical details and campus regulations TRA-Mage designed the system to meet the project requirements. Eco-Infinity Mexico provided the projects details and TRA-Mage provided the specifications, drawings and an engineered layout. The solar mounting system was installed early this summer and withstood the high winds of a tornado.
TRA-Mage, Inc., located in American Fork, Utah, offers Roof Snow Retention Devices, Solar Mounting Systems and Roof Flashing Solutions. They provide free engineered designs to all customers, from the homeowner to the developer. For more information call Hector Reyes at 800-606-8980 hector@tra-mage.com or visit sun.tra-mage.com
Featured Product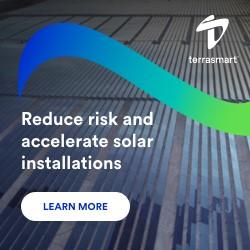 We push the limits in renewable energy, focusing on innovation to drive progress. Pioneering new solutions and ground-breaking technology, and smarter ways of working to make progress for our clients and the industry.