Company is First Ever Retailer in the United States to be Recognized by the EPA for Lowering Portfolio-Wide Energy Consumption by Over 30 Percent; Facilities' Carbon Footprint is 37 Percent Less in 2011 than 2004
Boca Raton, Fla., July 10, 2012 -- Office Depot, Inc. (NYSE: ODP), a leading global provider of office supplies and services, today announced that it has been named to the Environmental Protection Agency's (EPA) list of 2012 ENERGY STAR ® Leaders for Leadership in Reducing Greenhouse Gas Emissions. ENERGY STAR Leaders is an elite group of organizations that have improved energy efficiency across entire portfolios of commercial buildings. Office Depot's significant energy reduction makes the Company the first ever retailer in the United States to be recognized for a 30 percent or greater improvement. Office Depot's ENERGY STAR Leader story is available here.

In the baseline year of 2004, Office Depot facilities emitted 381,689 metric tons of carbon dioxide. By 2011, the carbon footprint of Office Depot's facilities was 239,319 metric tons -- a reduction of over 140,000 metric tons, or 37 percent over the seven year period. This is equivalent to the annual greenhouse gas emissions of nearly 28,000 passenger vehicles*.
"Office Depot is pleased to be recognized as an ENERGY STAR Leader for the second time," said Edward Costa, Vice President of Construction for Office Depot. "Becoming the first retailer to achieve 30 percent or greater energy reduction further demonstrates our commitment to environmental leadership as we continue to implement a range of initiatives that uphold the Company's global environmental strategy to Buy Greener, Be Greener and Sell Greener."
The achievement was accomplished as a result of investing in energy efficiency and green building initiatives. Such projects have included a major de-lamping effort and a change to energy efficient lamps, reflectors and ballasts; the installation of motion detectors in receiving areas; continued upgrades to building HVAC systems; and aggressive energy management controls and monitoring.
"Making our buildings more energy efficient is one of the most effective ways for American businesses, government and other organizations to save money and reduce the pollution going into the air we breathe," said Gina McCarthy, Assistant Administrator for EPA's Office of Air and Radiation. "With help from EPA's ENERGY STAR program, leaders like Office Depot are benefitting their bottom lines while protecting our health and the environment."
Office Depot stores in Plano, TX; Raleigh, NC; and Tallahassee, FL won the top three spots for retail energy efficiency gains in the 2011 EPA ENERGY STAR National Building Competition. The Company's global headquarters in Boca Raton, FL received ENERGY STAR certification in 2011. Office Depot was recognized as an ENERGY STAR Leader for 2011 for over 20 percent energy efficiency improvement across its domestic portfolio compared to its 2004 baseline.
Ranked the greenest retailer in the U.S. by Newsweek magazine, Office Depot has consistently built and operated environmentally sustainable stores and facilities over the past five years. For more information on Office Depot's environmental strategy, please visit www.officedepot.com/environment.
* Office Depot makes greenhouse gas (GHG) calculations using the ENERGY STAR Portfolio Manager Tool. This is a tool provided by EPA to benchmark energy use and carbon emissions. Portfolio Manager includes all sites no matter how long they were open. For the GHG calculations associated with this award, a subset of sites was used - the 'ENERGY STAR Leaders Account'. This includes 1,108 Office Depot sites that were open for at least 12 months during the review period of 2010- 2011.
About ENERGY STAR
Launched in 1992 by EPA, ENERGY STAR is a market-based partnership to reduce greenhouse gas emissions through energy efficiency. This year marks the 20th anniversary of the ENERGY STAR program. Over the past 20 years, with help from ENERGY STAR, American families and businesses have saved about $230 billion on utility bills and prevented more than 1.7 billion metric tons of carbon pollution. To date, more than 1.3 million new homes and more than 18,000 buildings across all 50 states have earned EPA's ENERGY STAR certification. The ENERGY STAR label can be found on more than 60 different kinds of products with more than 5 billion sold over the past 20 years.
For more information about ENERGY STAR Leaders, visit www.energystar.gov/Leaders.
About Office Depot
Office Depot provides office supplies and services through 1,678 worldwide retail stores, a dedicated sales force, top-rated catalogs, and global e-commerce operations. Office Depot has annual sales of approximately $11.5 billion, employs about 39,000 associates, and serves customers in 60 countries around the world.
Office Depot's common stock is listed on the New York Stock Exchange under the symbol ODP. Additional press information can be found at: http://mediarelations.officedepot.com and http://socialpress.officedepot.com/.
Featured Product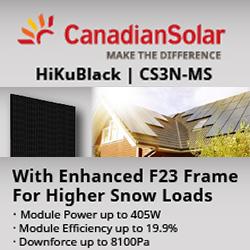 Aesthetic appearance for residential systems: With black backsheet & black frame, Power range 380 ~ 405 W, Low power loss in cell connection. Enhanced reliability: · Low temperature coefficient (Pmax): -0.34 % / °C, LID LeTID less than 2.0%, Lower hot spot temperature, Better shading tolerance.