May imports decline 45 percent from 2011 levels
WASHINGTON, D.C., July 12, 2012 – Imports of Chinese solar cells and panels into the United States decreased for the second straight month in May year-over-year, according to the Coalition for American Solar Manufacturing (CASM). Chinese solar imports totaled $124.1 million in May, down about 45 percent from $225.8 million in May 2011, according to the Department of Commerce's "U.S. Imports of Merchandise" database. According to CASM, this significant decline in year-over-year totals reflects the market's rising recognition of the costs, risks and uncertainties associated with importing Chinese solar cells and panels.

Despite two months of declines, Chinese import levels for all of 2012 are still ahead of last year's pace: For the first five months of this year, the total value of Chinese cell and panel imports reached $1.21 billion, up from $993.2 million for the same period of 2011, an increase of 21.8 percent, according to the Commerce data.
The May totals reflect anti-subsidy duties of up to 4.73 percent on Chinese cells and panels that Commerce announced on March 26 and were applied retroactively to imports starting Dec. 27, 2011. However, they do not fully reflect the impact of Commerce's decision announced May 20 to impose preliminary antidumping duties on Chinese solar cell and panel imports ranging from 31 percent to 249.96 percent, according to CASM.
That decision, published May 25, 2012, was applied retroactively to all Chinese imports, starting Feb. 25. The 31 percent rate applies only to specifically named combinations of producers and exporters; companies not specifically listed by Commerce must pay duty deposits at the 249.96 percent rate.
Commerce's investigation is currently focused on the actual amount of dumping that occurred during the second and third quarters of 2011. Final duties for those imports, scheduled to be announced Oct. 9, could differ, and Commerce has already identified categories of illegal subsidy programs that will add to those final tariff rates.
However, the final duty rates for goods currently entering the country could increase even further. The final determination will provide estimated duty deposit rates for current entries of Chinese imports, but those tariff rates will not actually be finalized for at least a year from now. If Commerce determines that Chinese pricing in 2012 fell more than production costs for those imports, then the final duty margins for 2012 also will increase.
Imports from several other countries continued to rise significantly, compared with shipments in May 2011. These countries include Malaysia ($135.5 million, up 950 percent from the year-ago period), Taiwan ($47.2 million, up 615 percent) and the Philippines ($41.5 million, up 47.3 percent). CASM continues to work with U.S. Customs and Border Protection to detect and prevent any circumvention of preliminary duties and identify specific ports of entry and companies suspected of evading duties.
The Coalition for American Solar Manufacturing, founded by seven companies that manufacture solar cells and panels in the United States, has 215 employers of nearly 18,000 workers who have registered their support for CASM's case. The founding manufacturers have plants in nearly every region in the United States, including the Northwest and California, the Southwest, Midwest, Northeast and South and support several thousand U.S. manufacturing jobs. For details about CASM, go to www.americansolarmanufacturing.org; email media questions to media@americansolarmanufacturing.org; other questions or comments may be emailed to contact@americansolarmanufacturing.org.
Featured Product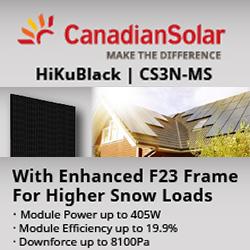 Aesthetic appearance for residential systems: With black backsheet & black frame, Power range 380 ~ 405 W, Low power loss in cell connection. Enhanced reliability: · Low temperature coefficient (Pmax): -0.34 % / °C, LID LeTID less than 2.0%, Lower hot spot temperature, Better shading tolerance.