Conference and Exhibition Opens in Largest U.S. Solar Market and Showcases the Latest Solar Industry Trends and Technologies
SAN FRANCISCO, July 10, 2012 /PRNewswire/ -- Intersolar North America, the premier solar industry exhibition and conference in North America for solar professionals to exchange information and develop business opportunities in the U.S. solar market, today welcomed attendees to its fifth annual event in San Francisco, making it the largest solar trade show in the heart of North America's biggest solar market. San Francisco Mayor Ed Lee delivered opening remarks in front of hundreds of conference attendees.

"San Francisco welcomes Intersolar North America back to our City for its fifth year in a row. Once again, we are proud to host one of the premier solar conferences in North America," said Mayor Edwin Lee. "As the Cleantech Capital of North America, San Francisco is home to nearly 19 megawatts MW of solar installations and also many of the companies that are driving innovation in the renewable energy industry. Conferences like these, showcase how San Francisco is leading the way in the green economy; creating green jobs for our residents and meeting our goals with clean solar, hydroelectric and biogas energy."
Over the course of the next three days, approximately 22,000 visitors from 80 countries are expected to visit about 800 exhibitors to see the latest innovations in photovoltaic cells and modules, manufacturing, balance of system components, mounting and tracking systems, energy storage technologies, solar heating and cooling technologies, and many other products and services. The exhibitors, which represent 26 countries, are located on all three floors of Moscone West and one floor in Moscone North, which boasts two special exhibits: PV Energy World, which represents Intersolar North America's expanded focus on energy storage and smart grid technologies, as well as Solar and Sustainable Transportation.
In addition to the special exhibits, attendees can learn about the latest technology innovations and business best practices by visiting presentations on the four free exhibition stages located on the show floor: the Innovation Exchange and Practical Point Stages, located on the third level of Moscone West, and the PV Production and Technology and PV Energy World stages, located in Moscone North. The Innovation Exchange will be the site of the Intersolar AWARD nominee presentations and award ceremony for solar projects in North America on Tuesday, July 10 at 4 PM. Intersolar created the new award category to honor the landmark solar projects that are helping expand the U.S. solar market.
Recent analysis from EuPD Research shows that the U.S. solar market is bringing solar online at a faster rate than initially anticipated, and is on track to add more than 3.3 GW of new installations by the end of the year. Furthermore, the International Energy Agency predicts that the global installed PV capacity will hit 230 GW by 2017—a nearly 230 percent increase over the global capacity in 2011—which leaves many optimistic about the solar industry's future prospects.
More than 200 expert speakers will address the challenges and opportunities facing the North American solar market, and discuss how to maintain its impressive growth in more than 30 sessions at the Intersolar North America conference in the Intercontinental Hotel next door. The speakers represent a diverse group of international solar industry leaders, including the directors of the three world-leading solar research institutions who signed an memorandum of understanding during the official conference opening to develop the Global Alliance of Solar Energy Research Institutes (GA-SERI): Dr. Dan Arvizu, director of the National Renewable Energy Laboratory (NREL); Dr. Michio Kondo, director of the National Institute of Advanced Industrial Science and Technology (AIST) in Japan; and Prof. Dr. Eicke Weber, director of the Fraunhofer Institute of Solar Energy Systems (FhG ISE) in Germany.
"Intersolar North America remains the place to see the innovations shaping the industry and learn about important industry trends first," said Markus Elsasser, CEO of Solar Promotion International GmbH, organizer of Intersolar North America.
"The strength of our partners allows us to provide a complete overview of North American solar industry developments from a domestic perspective, and our international expertise is able to provide a global context to these developments," said Klaus W. Seilnacht, CEO of FMMI GmbH, one of the organizers of the Intersolar North America. "We are excited about our strong roster of industry speakers, and are eager to see the newest products on the show floor."
About Intersolar
With over 3,500 exhibitors and 120,000 visitors spanning three continents, Intersolar is the world's leading exhibition series for the solar industry. Intersolar North America takes place annually in San Francisco's Moscone Center. Since its establishment in 2008, the exhibition and conference have developed into the premier platform for the solar industry in North America. Intersolar North America focuses on photovoltaics and solar thermal technologies and is co-located with SEMICON West. It has quickly established itself among manufacturers, suppliers, distributors and service providers as an international industry meeting point.
Intersolar's storied history of international exhibitions and conferences spans more than 20 years. Taking place in addition to Intersolar North America are Intersolar India in Mumbai, and Intersolar China in Beijing, which was launched in 2011. The world's largest exhibition for the solar industry is Intersolar Europe in Munich. For more information on Intersolar North America please visit: http://www.intersolar.us/
Featured Product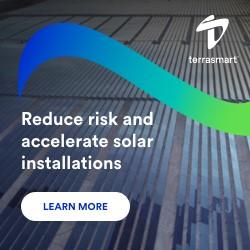 We push the limits in renewable energy, focusing on innovation to drive progress. Pioneering new solutions and ground-breaking technology, and smarter ways of working to make progress for our clients and the industry.