Together the projects are designed to generate 5,500 MWh per year.
LOUISVILLE, Colo., July 17, 2012 -- Real Goods Solar and

Gestamp Solar today announced plans to construct 4.8MW of solar projects in
Vermont. Construction on the two solar installations, 2.3MW in Pownal and
2.5MW in Williamstown, is slated to begin later this month and the projects
are scheduled to complete by the end of the year. The ground mounted solar
arrays will be owned and operated by Gestamp Solar and designed and
installed by RGS Energy, the commercial and utility division of Real Goods
Solar.
Together the projects are designed to generate 5,500 MWh per year. 100% of
the energy produced will be purchased through a feed-in tariff under the
Standard Offer Program of Vermont's Sustainably Priced Energy Development
(SPEED) Program.
According to Pablo Otin, VP of Gestamp Solar, the VT SPEED Program, which
promotes the development of in-state energy sources which use renewable
fuels, was instrumental to getting these projects developed.
"Vermont's feed-in-tariff has made it one of the more attractive locations
for solar development in the country. Gestamp Solar is thrilled about
expanding the state's solar footprint."
RGS Energy continues to differentiate itself as the most experienced
utility-scale solar engineering, procurement and construction firm serving
the Green Mountain State. "RGS Energy is excited about developing
utility-scale solar projects that reduce the environmental impact and cost
of electricity, while allowing Vermont utilities to focus on providing
quality, source diversified services to the public,"
said Jeffrey Schmidt, President of RGS Energy.
About Real Goods Solar
Real Goods Solar, Inc. is a leading residential and commercial solar energy
EPC provider, having installed over 13,000 solar systems. From the first
public sale of solar panels in 1978 to multi-megawatt installations, the
clean energy aspirations of our clients have been the driving force behind
our business. With over three decades of experience, we integrate unmatched
industry expertise and engineering skill with innovative financing
strategies to guide organizations to profitable energy solutions. For more
information about Real Goods Solar, please visit www.realgoodssolar.com, or
call (888) 507-2561.
The Real Goods Solar, Inc. logo is available at
http://www.globenewswire.com/newsroom/prs/?pkgid=6455
About Gestamp Solar
Gestamp Solar Gestamp Solar (www.gestampsolar.com), the photovoltaic energy
division of Gestamp Renewables, Specializes in the Development,
construction, operation and maintenance of utility-scale photovoltaic plants
in the United States, India, South Africa, Chile, Peru, Italy, France and
Spain, and has developed and constructed over 450 MWs of solar energy
projects to date.
Featured Product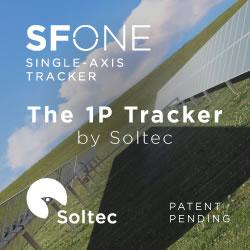 Soltec manufactures and supplies solar trackers designed and proven for extreme climate conditions, which is an ideal solution for any region's environment. Soltec's trackers are self-powered, requiring no additional PV module or grid-powered connection. Bifacial modules collect energy on both the front and rear sides, capturing reflected irradiance from the ground surface under and around the tracker and from other modules. Depending on site conditions, bifacial yield-gain can reach +30 percent.